Day 2
Day 2 of our Cruise was not actually on the cruise yet. It was the Friday before, and we had some neat plans!!
We had tickets to the Kennedy Space Center. And BOY were we excited. I was like a kid who was going to Disney.... seriously.
We had scored a pretty good deal on tickets, and the secret was to "like" Kennedy Space Center on facebook. Through their facebook page, I found a deal on 4 adult tickets for $160 bucks. Not bad when the normal price is $50 each! AND, B was free since was under 3.
Kennedy Space Center opens for visitors at 9am, and it was about a 20 minute drive from our hotel in Cocoa Beach. We arrived just minutes before 9, and from the moment I got out of the van, I was in heaven!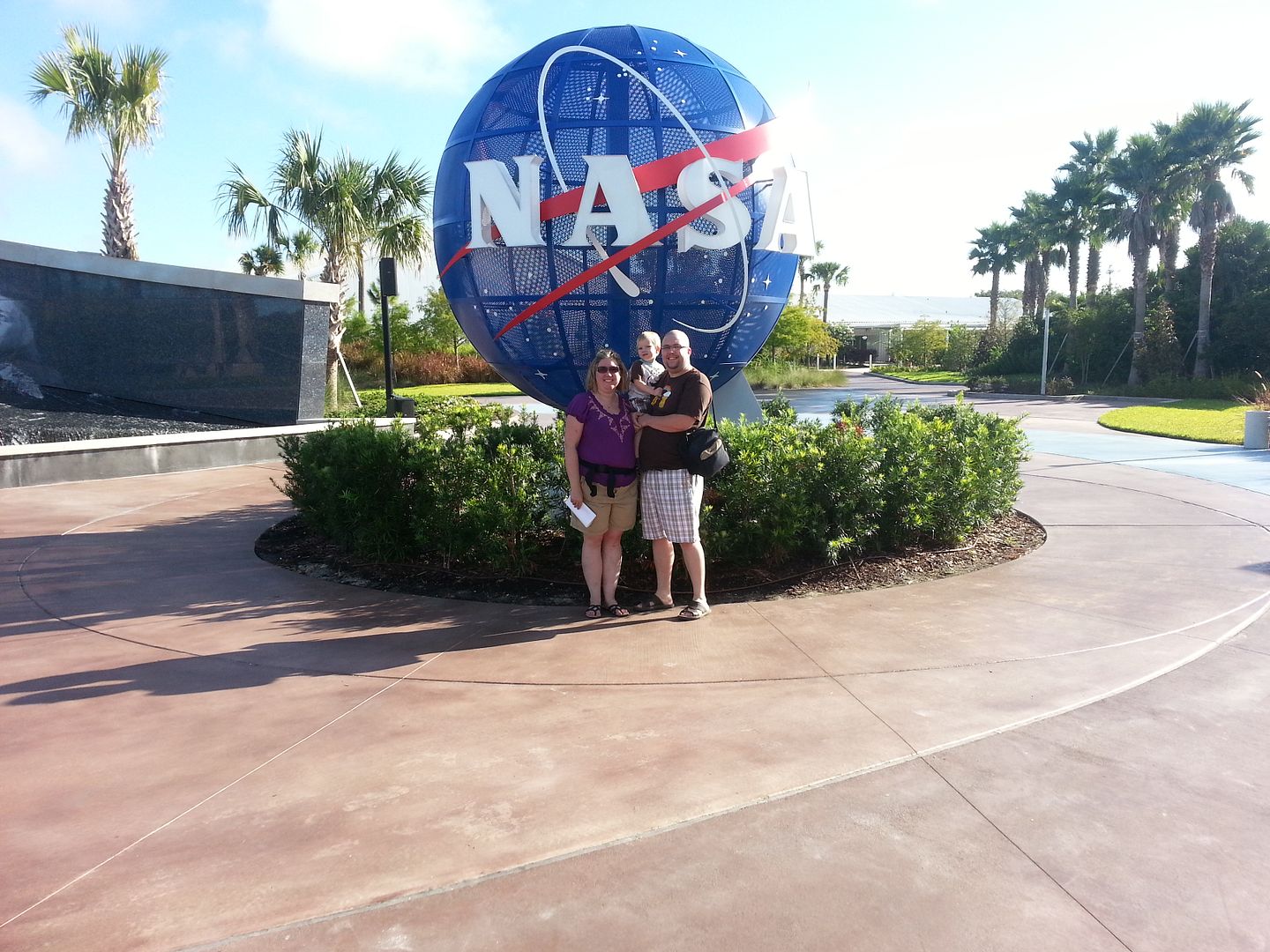 We, of course, had to stop for the family picture, and we were not the only ones doing exactly that.. ha!
We then headed through the gate and into the complex itself. The ticket price included entrance to all the exibits, and the bus ride to the actual space center and tour if you wanted to do that.
Honestly, I only had one thing on my mind... ATLANTIS!!! I HAD to go see a space shuttle.
Entering the complex, my first impression was that we would hit Atlantis, be in and out, hit a few other things and be done, that it wouldn't really be an all day event.... BOY WAS I WRONG! I'll tell you right now, plan the ENTIRE day, and if you can, plan 2!
We made a bee-line for the Atlantis Exibit, and were greeted by this full size wonderment
I purposely made this picture "Xtra-Large" to give you more of the idea of how HUGE this thing is. Its a replica, but very very impressive! We stopped and took all the cheezy pictures and marveled, and then into the building we went.
My initial impression as you walk up a ramp to the 2nd floor, was that I was feeling very patriotic. That was perpetuated by the music selections, and the myriad of photos of space missions. It really set the scene VERY well, and made me even more excited.
Once at the top of the ramp, you wait a few minutes for a crowd to form, and a staff memeber then leads you into a small theater to watch a movie. The movie is all about the design staff and how they came up with the idea and built the shuttle. After about 10 or so minutes, your led from that room into a more immersive theater with an almost IMAXish setup. Fully 3 dimensional with video all around you. It goes through launches, and images of being in space, and culminates with an amazing video image of the shuttle Atlantis. The best part then happened... the lights start to shift and you realize that your not looking at a video image of the shuttle, but your looking through a transparent screen at the ACTUAL ATLANTIS SHUTTLE!!! They then raise that screen and you walk forward into the exhibit itself.... this was THRILLING!! I wanted to clap and cheer, and make a fool out of myself. The view was spectacular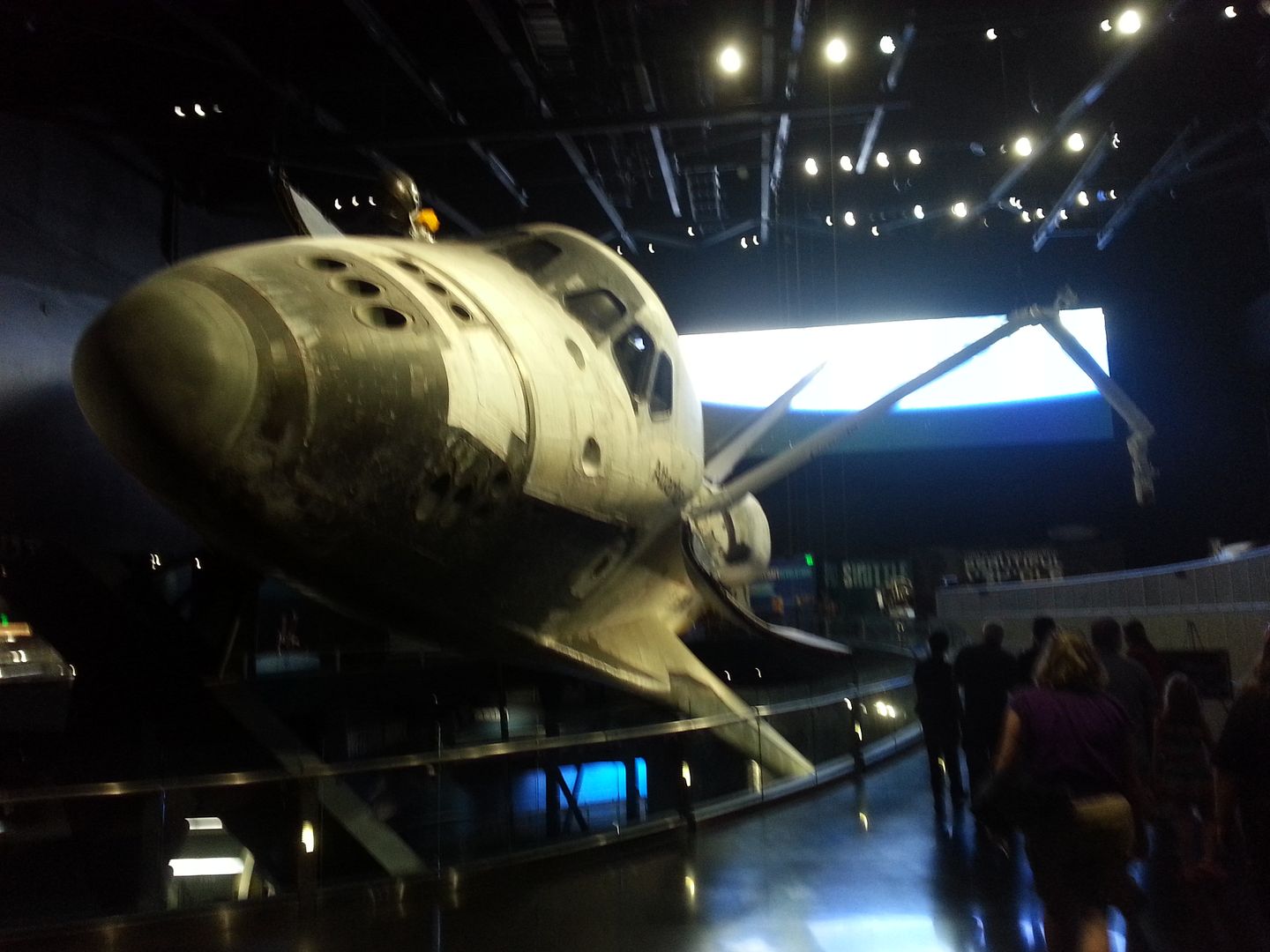 Not the best picture, I know (I hope to get a better from a friend) but what an amazing site!! In front of you is the ACTUAL space shuttle!
There is an opportunity for a staff member to take and try to sell you a photo, ours didn't come out well. You move forward to an full 360 degree view of this amazing space craft
Around behind the shuttle was a mockup of the inter living areas of the shuttle, and you could crawl through them... B LOVED it!
Even I got in on the fun... the end of the exhibit is a long clear acrylic tube, and your suspended 15-20 ft over the bottom floor... it was a little intimidating, but fun
There were tons of other exhibits including cockpit mockups, telescopes, the CANADA Arm, space suits, and LOTS of stuff to see!
You then have the option of walking down a big ramp... OR sliding down a HUGE slide designed to give you a concept of landing/touchdown. B was to small to go, but I didn't pass it up... it was FUN!
The lower floor has exhibits about crew living quarters such as sleeping, bathroom, food, and more, and they even have, on display, the prototype model featured in the video.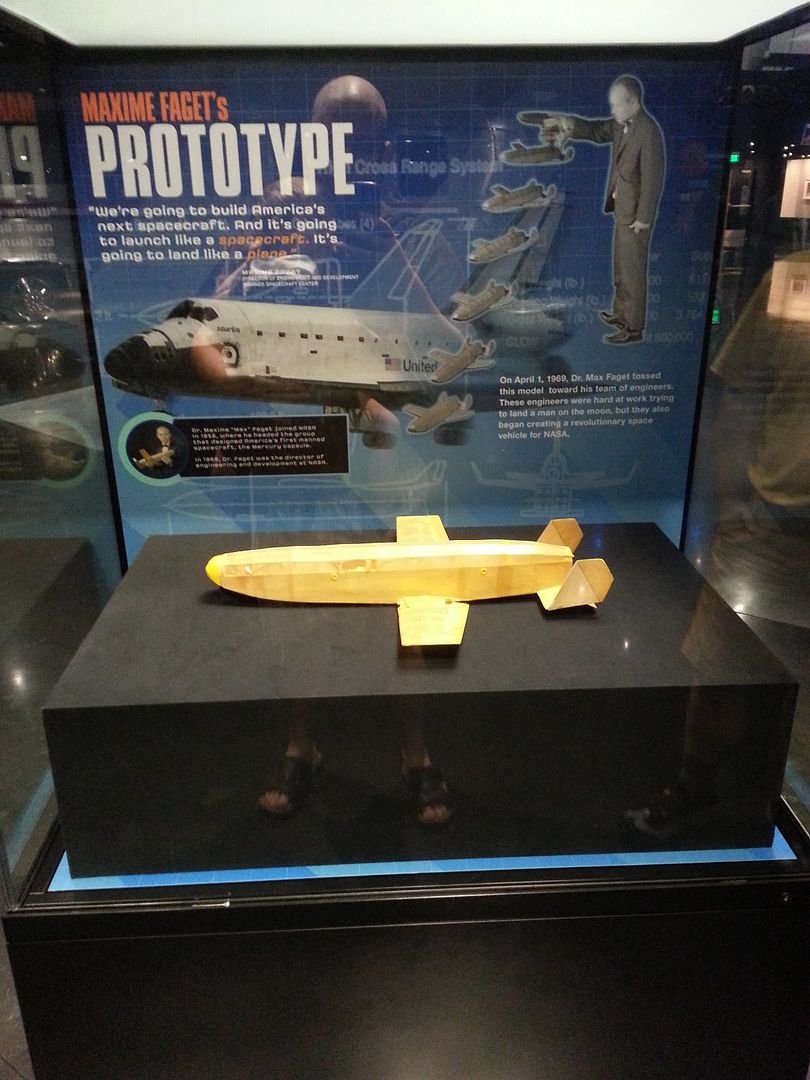 The other BIG thing to do down there is the Launch Simulator. Unfortunately, B was to small to go on this one as well, but if you are big enough... GO!!!! Its an amazing experience and the simulator does a great job of giving you the feeling!
Finally, after everyone saw everything they wanted, we spent money in the gift shop, and purchased pictures, we headed out of the Atlantis Exibit... realizing we had spent almost 4 HOURS in there! B was hungry, as were all of us, so we headed to one of the Cafe's to get lunch. They had a good selection of foods, and even some beer to quench your thirst.
One word of advice... DON'T LOOSE YOUR FOOD RECIEPT.. its worth 10% off in the gift shop!
After lunch, N and our friends wanted to go to a hubble picture exibit. I knew B wouldn't care much for that, so he and I headed to the kids play area and he got some good play time!
We eventually made our way over to the Rocket Garden.. Its an impressive place, and even had a few mocked up capsules you could sit in and get a feel for pre-shuttle space flight... very neat!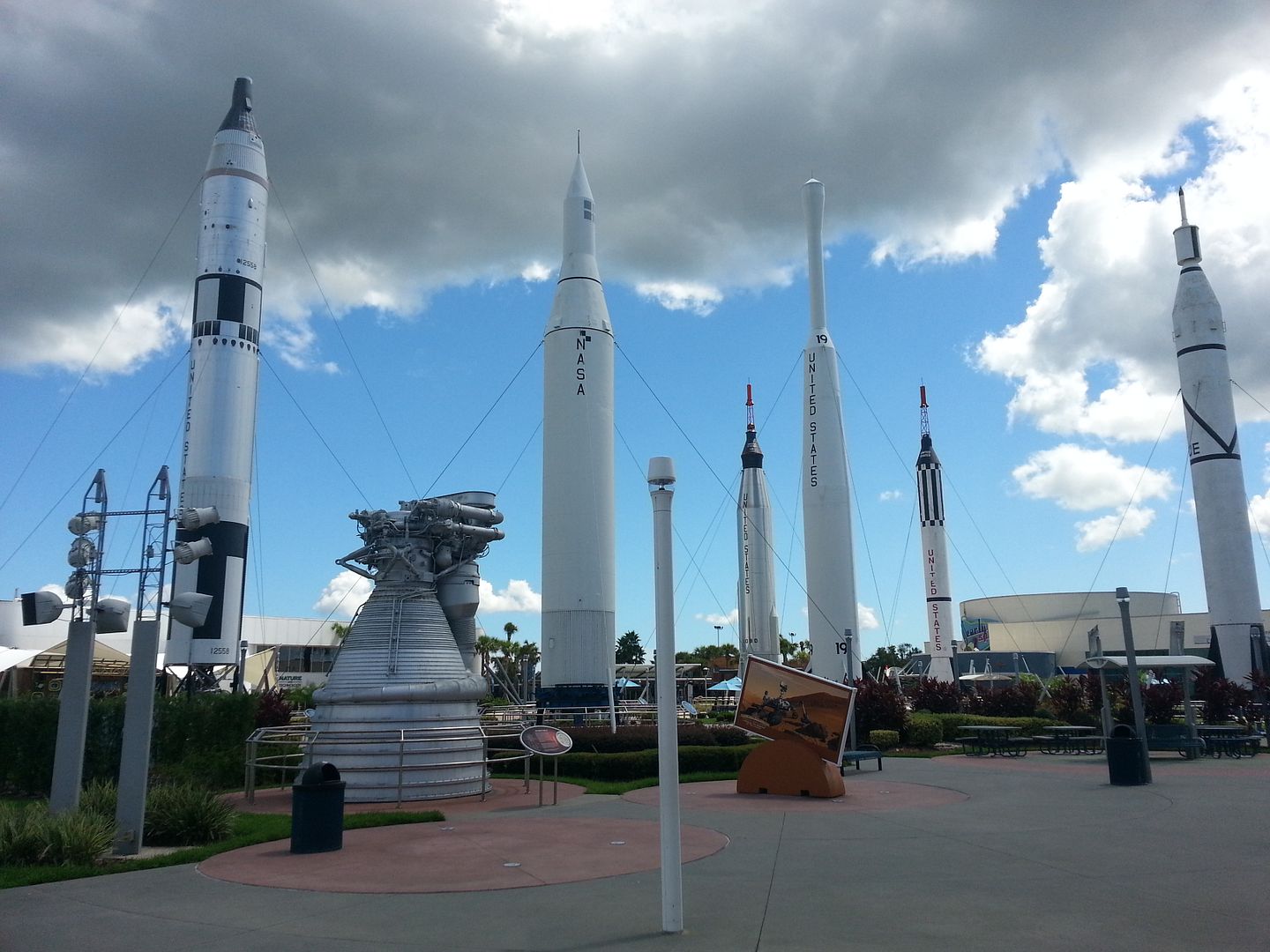 That was basically it, we hit the Gift shop, and a small exhibit about the nature around the space center (mostly just go cool off, it was HOT) and then headed back to the van.
Kennedy Space Center is a MUST VISIT place, and I really really want to go back! We headed back to the Hotel and everyone laid down for a short nap before dinner. Naps for little ones and big ones became an ongoing theme on this vacation, and it was glorious!
After a nap, and a quick Wal-Mart run, we were off to dinner. But before that, let me mention the primary reason for the trip to Wal-Mart. At home, we cloth diaper little B, but we decided 10 days worth of diapers and no good place to wash them was a recipe for disaster, so we decided to use disposables for the trip. Our severe weight limits with Allegiant combined with not wanting to deal with extra stuff, we brought just enough diapers to get through to Florida, and then bought diapers in Florida.
We decided to take 2 cases of diapers with us.. not because we thought we would need them, but if anything happened and our cruise got delayed or lengthened, we didn't want to run out!! We ended up with MORE than a case left, but I'll talk about that later!
Now, post Wal-Mart, we went in search of food, and ended up at Thai Thai in Cape Caneveral. I did a review on TripAdvisor.com, and I'll just link to that...
HERE
. Just quickly, the food was GREAT! The service was a bit slow, but we enjoyed ourselves.
Post dinner, we grabbed a bite of dessert at
I dream of Yogurt
(again with trip advisor) and enjoyed that as well. After a stop at the huge 24 hour Ron Jon's we headed back to the hotel to re-pack bags and get some sleep before starting our cruise the next day!
Florida treated us well pre-cruise!
More Monday!