So now we come to Sunday, our first full day on the Carnival Dream, and our first of 2 "Fun Days at Sea". That means that we are on the boat all day, and not stopping anywhere. These days are often reserved for relaxation, lots of eating, and getting to use all the services of the ship!
We started our day in the Scarlett Diningroom for the Punchliner Comedy Brunch, which started at 9am. I'm not sure when the comedy portion started, but we were in and out before it started. We were seated at a table with a few other folks, and had a great view off the back of the ship
The breakfast menu is well laid out, with normal items every day, and then special items as well. I tried the Huevos Rancheros, a favorite of mine, and it was delicious!
Breakfast is different from Dinner in that you don't have a normal table, nor the same wait staff.
As well, since we were seated with others not from our group, we got to meet some new people and the conversation was nice!
After breakfast, B went to Camp Carnival for the first time. Drop off was simple. Just show your sign-and-sail card, they check your phone....
wait, I don't think I ever talked about the phone, so lets do that.
Parents of kids under a certain age who are registered for Camp Carnival are issued a phone to carry around when the kid is at Camp Carnival. Its a Cisco IP Phone, and works anywhere on the ship. I had heard a little complaining about the "Cell Phone" they give you on Cruise Critic, but I don't understand the complaints, now that I've been there. Carnival does call it a cell phone, but its not, and it will not work offline. Its connected to the other ship phones, and you can use it to call your room, or the purser, or any other ship phone, and anyone can call you. This ended up being VERY convenient! The stated purpose for it is that if there is a problem with your child, they will call you to come deal with it. It provided a piece of mind, and was not a big deal at all.
back to your regularly scheduled review of day 4
.... and send you on your way. My suggestion is, despite any fits or tantrums, get in and get out!! The more time you spend there, the more difficult it will be for your little one to let go and go have some fun. And trust me, they WILL have fun!
N and her friend headed off to the shops to check out jewelry sales and such, and I hit the Casino for some mindless gaming. It was a very laid back morning on the ship, doing whatever we wanted. Eventually, one of our friends and I decided we needed to "Pre Lunch" and headed to the BBQ on the Lanai on Deck 5.
The BBQ is an open air area on the deck where they were grilling and making all kinds of food. I had quesedillas, tacos, and some slider burgers. The food was quite good, but the wait line was a little smokey due to the grills. Probably just bad luck with wind direction.
This was one of the first times I waited in line for ANYTHING. Long lines are a common complaint on these big ships, and other than the general buffet, and only occasionally with that, there were never lines that were more than just a few minutes!
After our "Pre Lunch" we went and caught up with the Girls and decided to go get REAL lunch. We collected B from Camp Carnival and headed to the buffet and pasta place for lunch. I snuck off to the Indian Tandoor to get mine, and it was YUMMY!
The rest of the afternoon was tied up with naps and relaxation and finally preparing for the evening meal. On this cruise, Sunday was the first "Elegant Night" in the dining room. We decided it was time to clean up and Dress up!
A couple of handsome guys there!! And, any time your hanging with a 2.5 year old... there has to be goofyness!
N, as most wives do, wanted some family pictures. And on a cruise ship, there is PLENTY of opportunity to do that! We headed dpwn to Deck 5 where the army of photographers had set up their backgrounds and stations. You pick which you want, they scan your card, take your pictures, and you go check them out later. B did GREAT!! And, despite the sock situation, this is N's favorite of the night.
I'll go into more detail about buying and finding pictures in its own post!
After taking a ton of pics, we headed toward the sounds of a lounge band doing some great smooth jazz, and a meet-and-greet with the captain. We actually got to spend more time with him later in the week, but we will get to that!
After meeting the Captain, we went to check out the band, and little B had to dance and charm the singer!
At this point, B was getting uncomfortable, and it was very apparent that his teeth were bothering him, so N went back to the room to get some medicine, and (as is our way) B and I got a little goofy with the appetizers.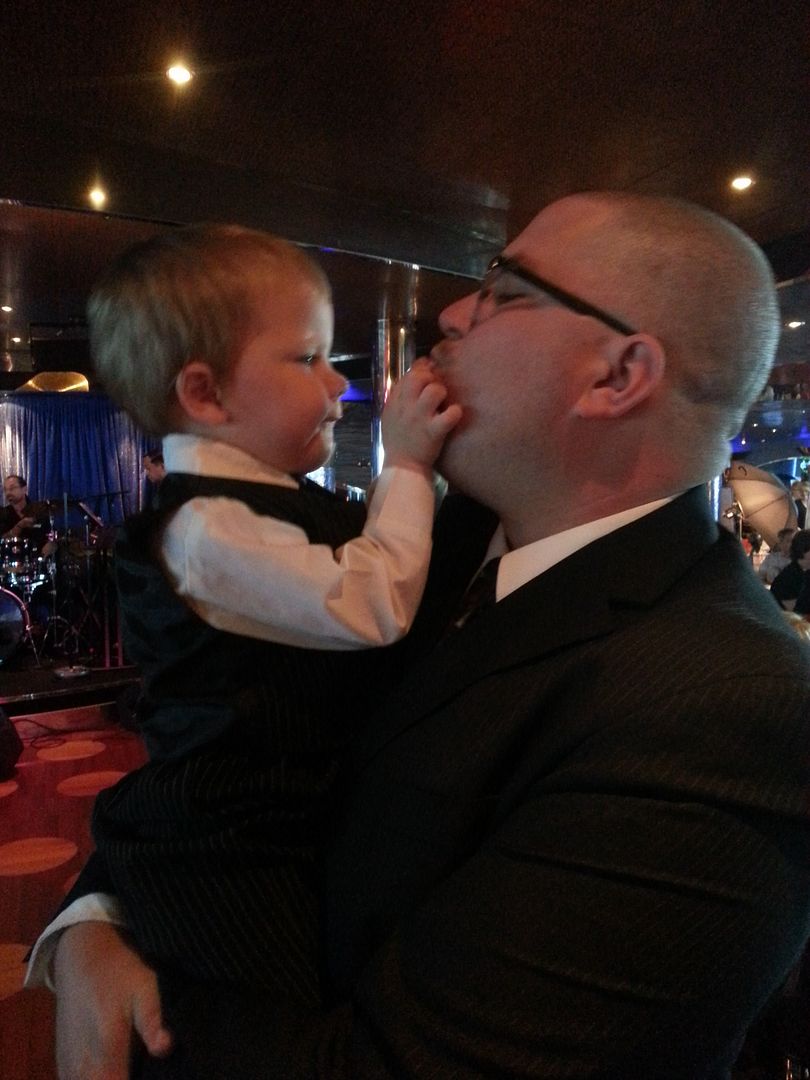 Eventually, we made it up to the dining room and sat down. On the menu this evening for B is a fav of his... PIZZA!!
This evening also turned out to be one of my favorites of any cruise... LOBSTER NIGHT!!! On our first cruise I learned something very important about the dining room... ORDER WHAT YOU WANT... you are not limited to one serving, or one item, or one from each section, you get what you want!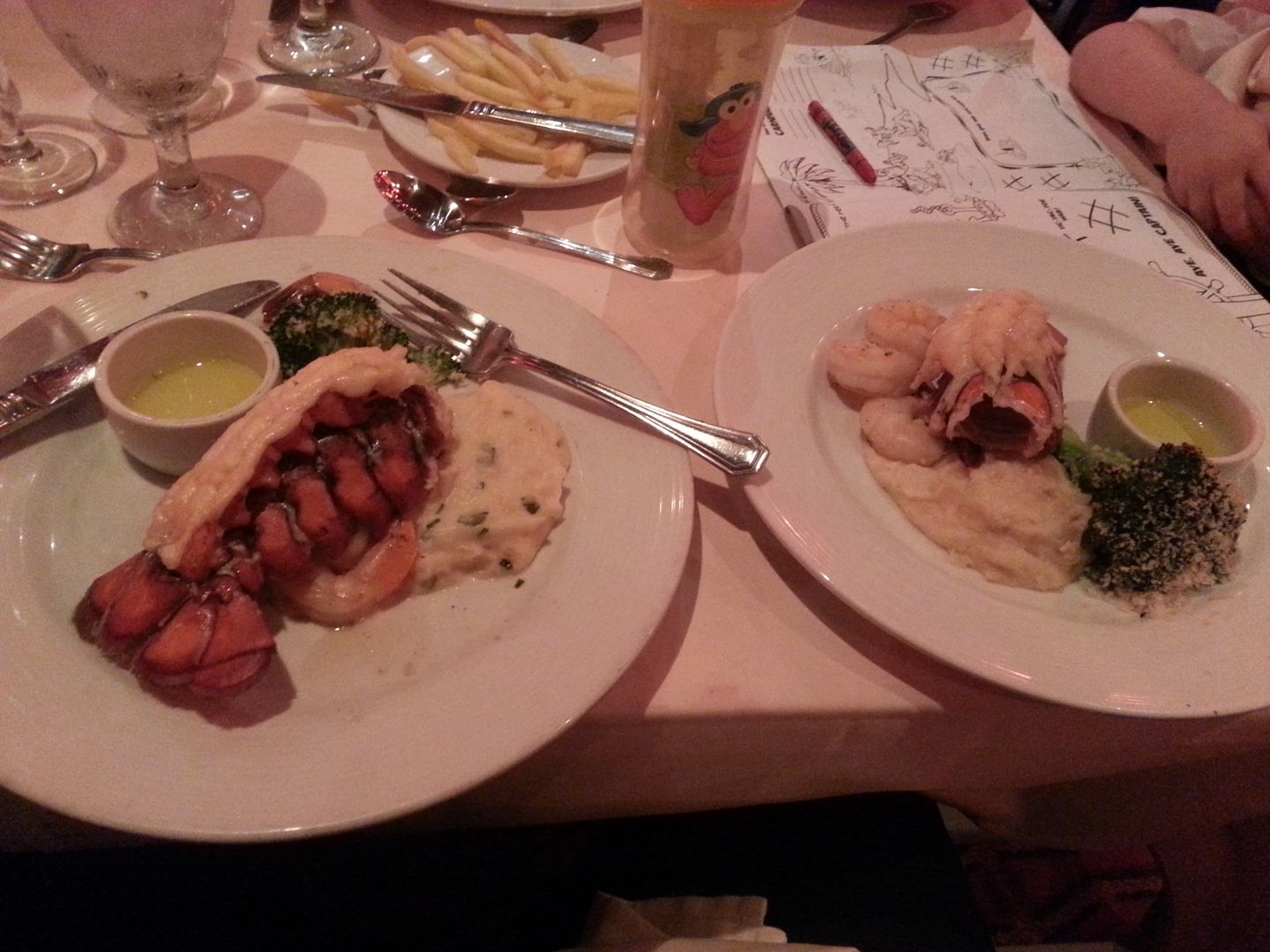 In fact, one our plates was missing its shrimp, so in answer to that... we got, as N said, "Another Round of Lobsters".. and another round came... I eventually put down 3!
I love me some lobster, and it was very very very good!
After the main course, and just before desert, it came time to be entertained by our dining room staff. Shane, our Maitre Di, welcomed us to the dining room with his signature "Heellooooooooo". B loved this and chimed it right back at him. The staff then serenaded us with a beautiful Italian song!
Dinner ended, and B went back to Camp Carnival for an evening of playing. I snuck out to the deck to catch a little Sunday Night Football!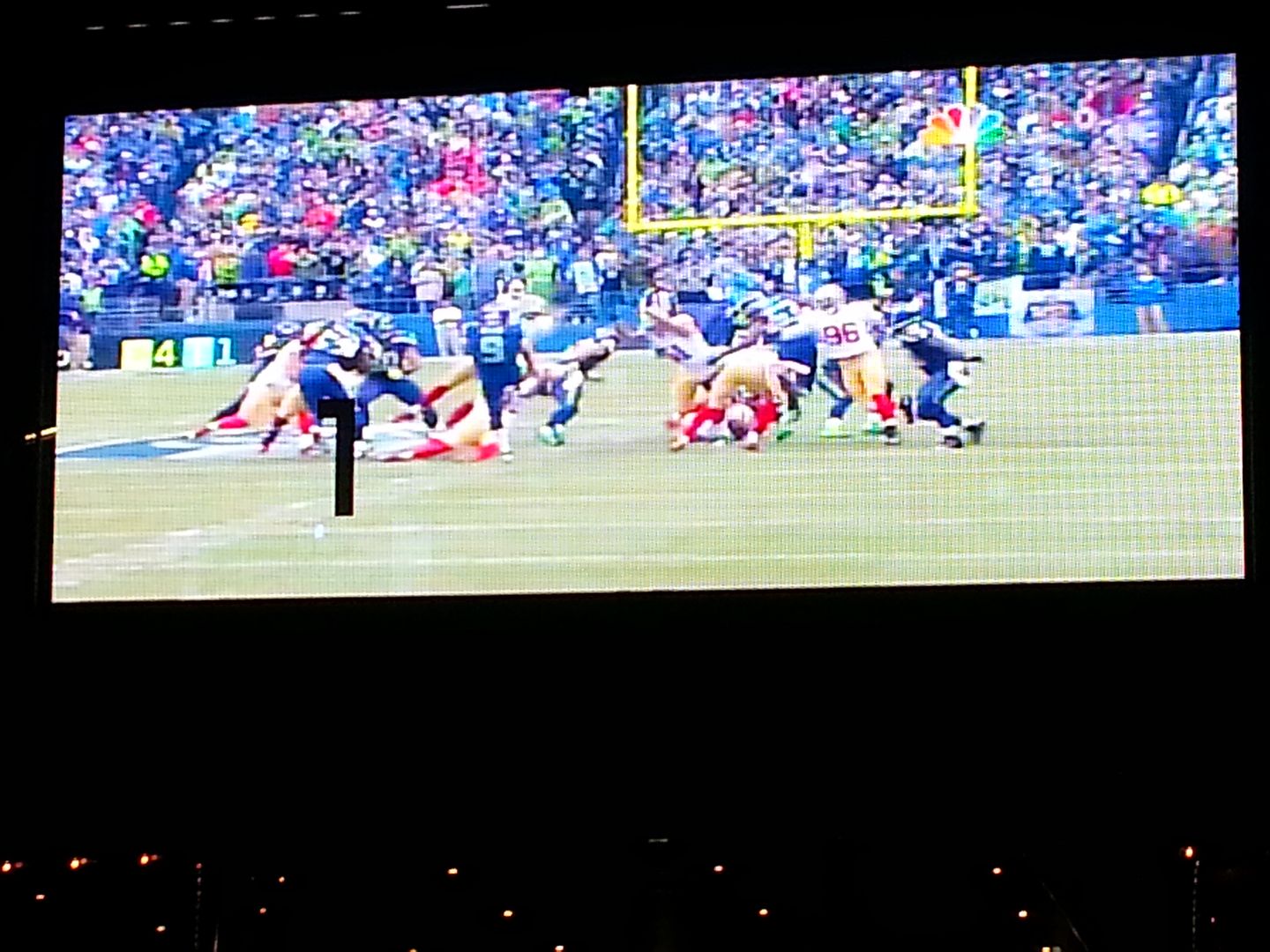 You'll notice the big 1 in the screen... it was a broken area, and was fixed before Thursday Night Football!
We saw the show in the theater that evening, did more shopping (we did a lot of this) and eventually picked up B from Camp and headed to bed, dreaming of our next days activities in Cozumel Mexico!