I know, its been a while since we've gotten back, but its taking me more time than I thought to organize my thoughts.. not to mention PICTURES AND VIDEO!!
But here we go. Lets start with Day 1 Travel Time!
Traveling To Florida
Our adventure started after leaving work and getting B from the sitter. We had everything packed and in the van, so we headed straight to the Airport.
We flew out of Central Illinois Regional Airport. This is a small airport, and we have used them in the past and been very satisfied with our service. However, this time was a little difference.
We dropped off our luggage and B and I at the curb and N went to park the car. CIRA has free long-term parking. That part went well, and into the terminal we went. We were immediately greeted by a line. This was the first unusual thing for this airport. Part of it was because there was a "Make A Wish" family traveling on our flight, and the pomp and circumstance around that did slow things down a bit. No grudge toward them, as its amazing to see that family get their wish granted! And really, we were early, so a line is not a big deal.
We get about half way through the line when we encounter our first Allegiant Air employee. She asked us about our bags, and then ZEROED in on our Car Seat. She was only going to be satisfied if we showed her the sticker showing it was air travel rated, and we needed to do it NOW! The really odd part is I finally found it, turned around and she was gone.... Why wasn't the "we've flown with this seat already" enough for her? And why did she disappear?
Anyway... We make it to the counter and get checked in. The ticket agent was quite pleasant, and smiled at Bryan. Without further ado we were checked in and our luggage was off to the airplane.
We headed toward the gates, pausing to take the picture you see above, and then off to security. Security is the only part of travel that actually makes me anxious... Its a lot to juggle with a toddler.... (and without getting into it, I don't like the invasion of privacy) The TSA agent checking boarding passes was pleasant enough, though an off hand comment about not needing a passport for B to fly was unnecessary... its what we had, look at it.
Getting through the screening was simple enough... they hand checked the car seat (it doesn't fit) and through we go. They re-scanned N's bag for some reason, and that slowed us down... but soon enough we were through security and up to the gate. It was a VERY short walk.. and our gate was FULL.. lots of folks headed to Florida!
We grabbed some food for B (mac and cheese and a fruit bowl) and settled in. We had a good friend flying on the same flight so we waited for him. Once the gate agent appeared, N went up to see if we could get an early boarding for one of us with the car seat. She was greeted with a snotty attitude and a summary dismissal of her question. "You will board in your zone ma'am".
Now, we have gotten the "no" before, but never this rudely.
Our friend showed up and we enjoyed our time catching up and playing with B. N went back up to inquire about a gate check tag for the Britax Carseat Travel Cart after the umteenth announcement about limited carryons, and again a snotty attitude and she was told there were no tags. Well, We are not going to gate check something without a tag! (though some people did).
Finally we began boarding and the snotty announcements started, chiding us all, harassing us about the size of our carry-ons, and generally having an attitude of someone herding cattle.
THEN, to top it all off, they decided to board BACKWARDS! By the time my zone was called (I had the carry-on and our car seat) the plane was mostly full, and there was a line behind me. AND... AND... they never checked the size of a SINGLE carry-on despite harassing us about it over and over.
So, getting on the plane, I was greeted with a very nice flight attendant, who asked about the seat (and took my "its got the sticker" at my word, and reminded me to have it in the window seat. We were in row 4, which is the 2nd from the front, so since I had to get a carry on in the bin, and the carseat in the seats, I held up the line. Luckily, everyone was gracious and it went well. I stuffed the cart and the carry-on in the overhead and set to installing the car seat.
That went without problem, and shortly after, N and B joined me.
The flight itself was great, we purchased some snacks on board, and they were good. N and I both were impressed at the use of iPads to take credit cards on board.
We had a beautiful sunset to watch as we flew east as well...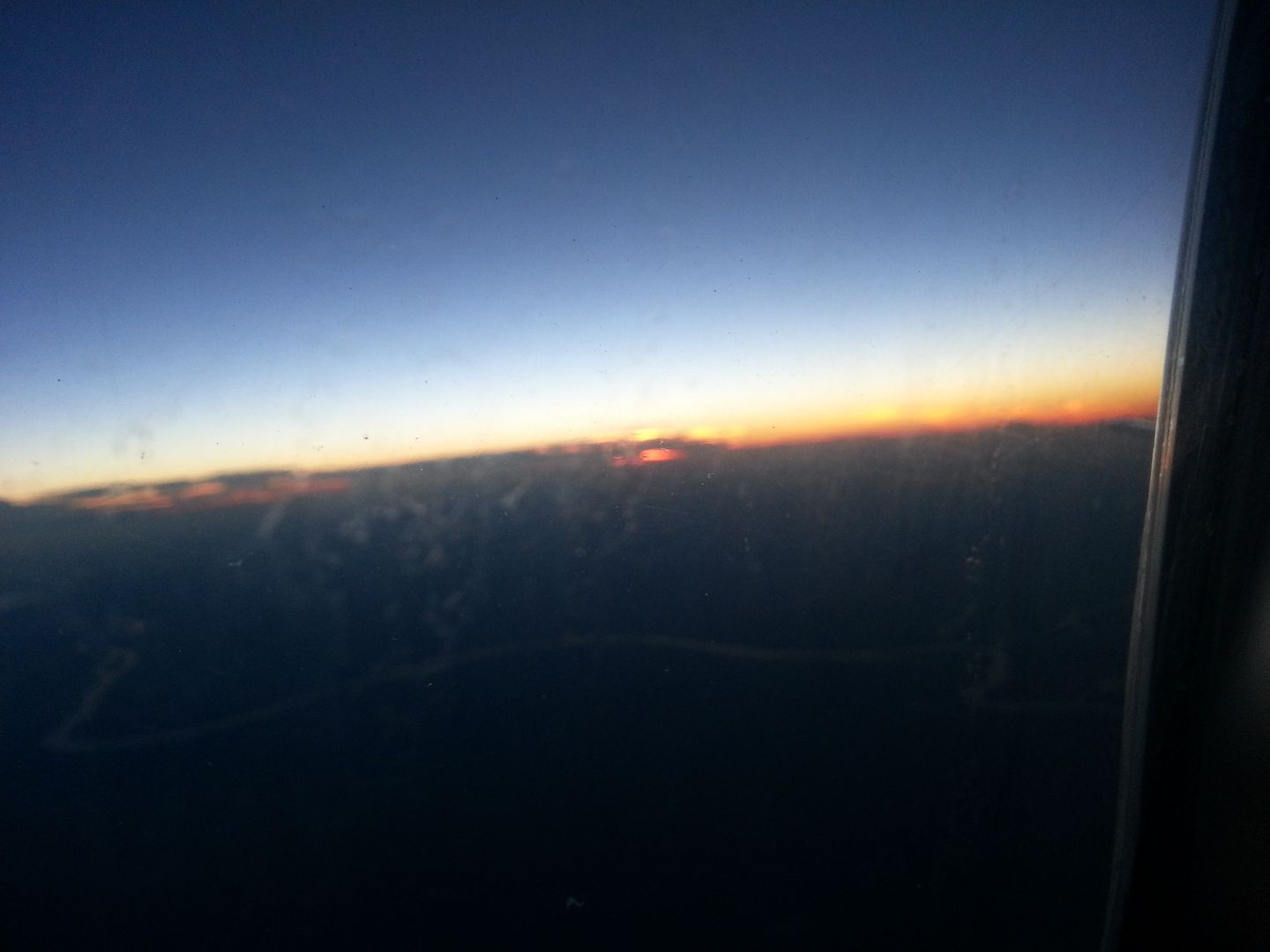 And B enjoyed himself as well... playing on the ipad, and getting tickled by the 3 year old daughter of the family in front of us... it was a fun flight!
We landed in Florida and our baggage was waiting for us by the time we got down there. We also discovered that the family in front of us was flying back the same time we were, and both B and their daughter were excited that they would get to see each other again... and have another game of chase and tag in the terminal!
Our car rental from Avis was quick and without much harassment about upsells, and our Town and Country Minivan was quite nice! We got loaded up and headed to Orlando International Airport to pick up our other friend. Our initial impression of Sanford/Orlando Airport was VERY VERY positive!
A quick trip around Orlando Airport, and the drive to Cocoa Beach took about an hour, and we were STARVING!! A midnight stop at McDonalds fixed that issue, and off we went to the Cocoa Beach Courtyard Marriott for the night.
There was a slight boo-boo at the desk, but N got it all worked out and up to our room we went, and crashed out!
All in all, it was not the easiest travel we've ever experienced, but it wasn't BAD, and we were in FLORIDA!!!
Day 2 tomorrow!