I apologize for being absent for a few days... its been BUSY!! But lets get on with it!
Day 5 - Cozumel Mexico
Our first port of call was Cozumel Mexico. We have been to Cozumel before, 10 years ago, and it was just like we remembered.
This was the only port where we had purchased an excursion through Carnival. We booked the "
Dolphin Swim and Ride, plus Lunch
". This was a bucket list item for N, and she was quite excited. I was also pleasantly surprised to learn that B was not only free, but would be allowed to be in the water with us. It ended up being even better than that, but I'll get there in a minute.
We ordered Room Service for breakfast the night before. (have I mentioned that this is FREE!) We ate while we got dressed and packed a bag to take with us.
We headed off the ship, and like most of the ports, there is a "Cruise Port" built with all the standard shopping and such. This is where the Carnival excursions meet, so we just looked for the sign for ours.
We got signed in and got wristbands, and had a few minutes to wait before we left, so we stopped to take a silly picture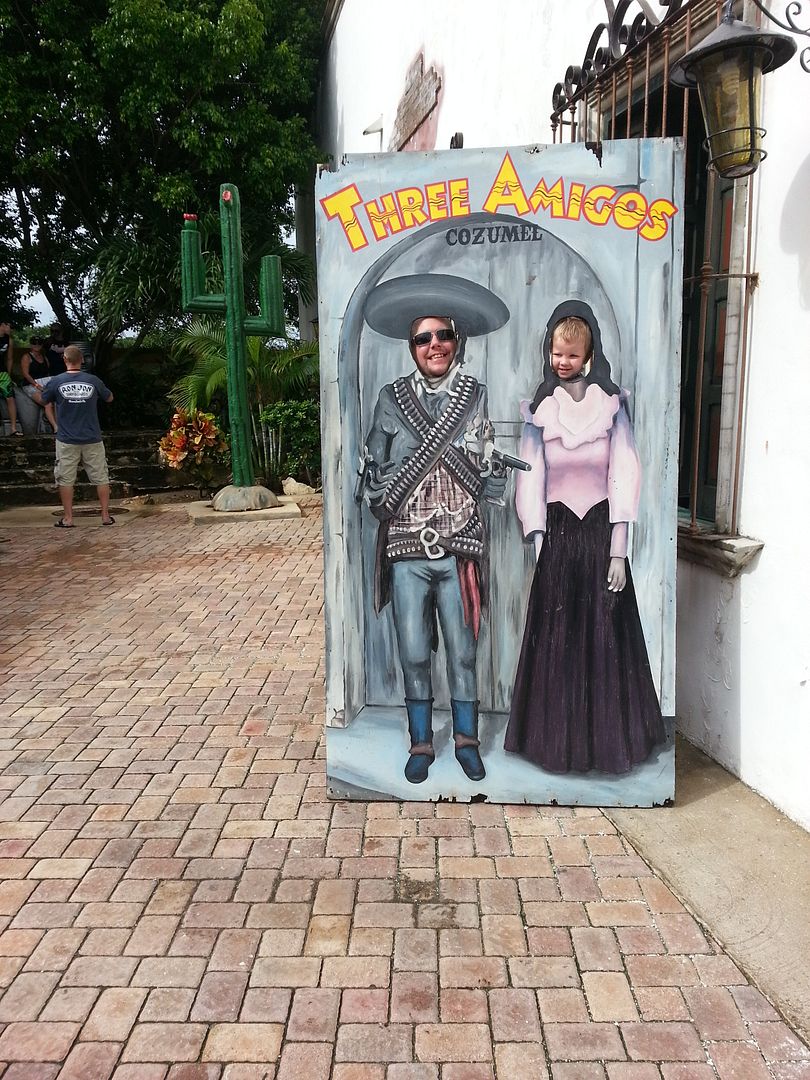 Shortly after, it was time to go. We were instructed to follow the "Friendly Mexican" through the port area to get into taxies. We wound our way through other crowds of people and were placed in groups of 5 or so to get in a cab and head to Dolphaniris.
Its a short ride, approx 5-7 minutes to the facility. Its tucked right next to the road behind some trees, and hard to see, but once you pull up, your greeted with a beautiful facility!
We were instructed go rent a locker if we had things we wanted to lock up. They were about 3 dollars. We were also told that after we changed into our suits, that we needed to rinse off any sunscreen or other lotions before our swim. The lotion is not good for the dolphins or their habitat. So, be aware of this.
We got changed and headed down to get the safety talk, and get our life jackets. We had brought B's with us, but they would not let him use it. The one they gave us was OK, but ours would have been more comfortable. Anyway, within a few minutes, our group was headed down to meet our dolphin!
After getting into the pool, we were introduced to Seymore, a female dolphin that we would get to spend 40 minutes with! Our group was not to big, maybe 8 of us including the kids.
There were a number of activities to do with the dolphin, including petting, swimming, kissing, shaking "hands" and a general overview of dolphins.
The best part was that B could participate in EVERYTHING that we felt comfortable with. AND HE WAS FREE!! Again, this was a bucket list item for N, and she REALLY enjoyed herself! I'll let the pictures tell the story!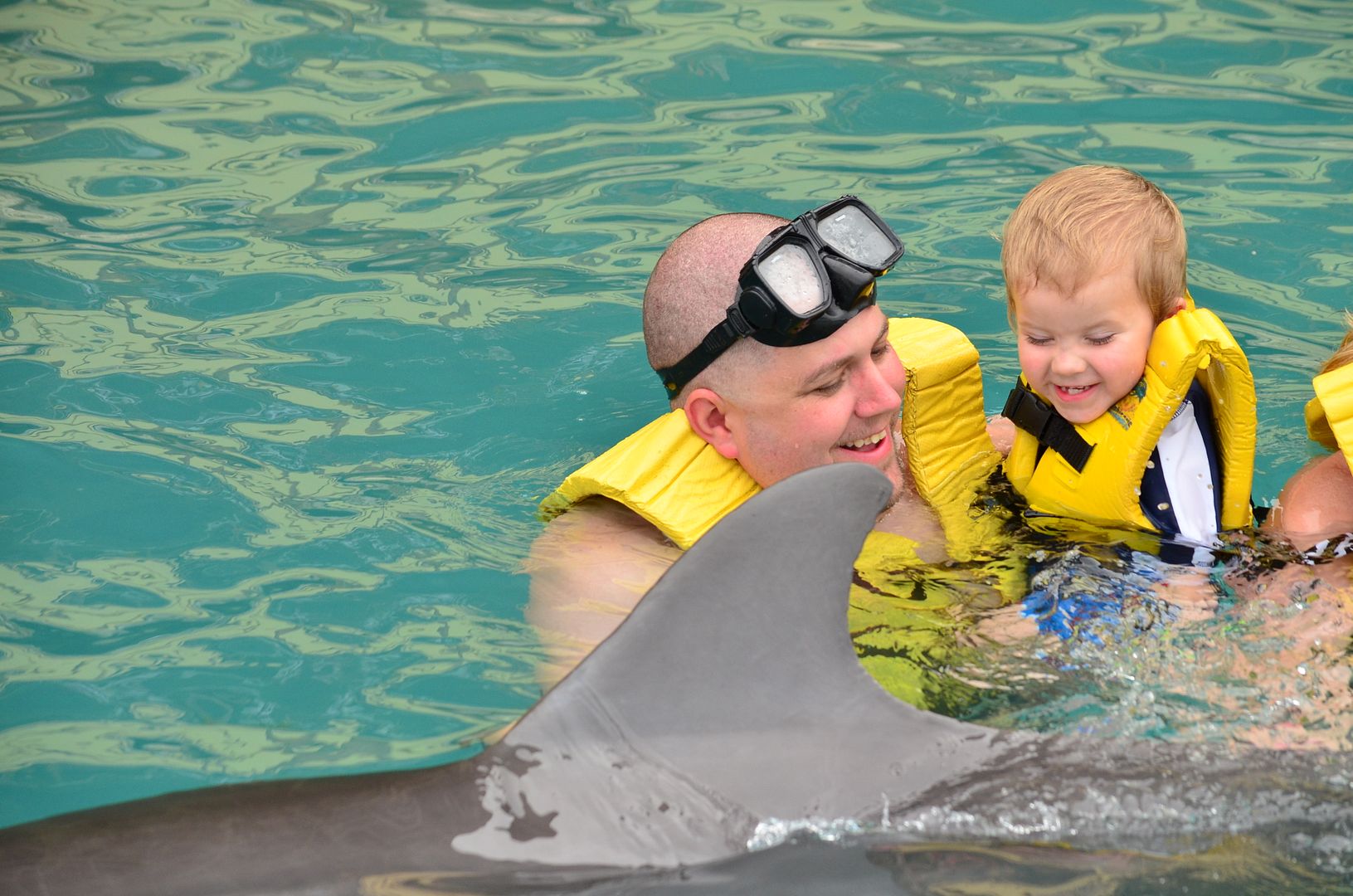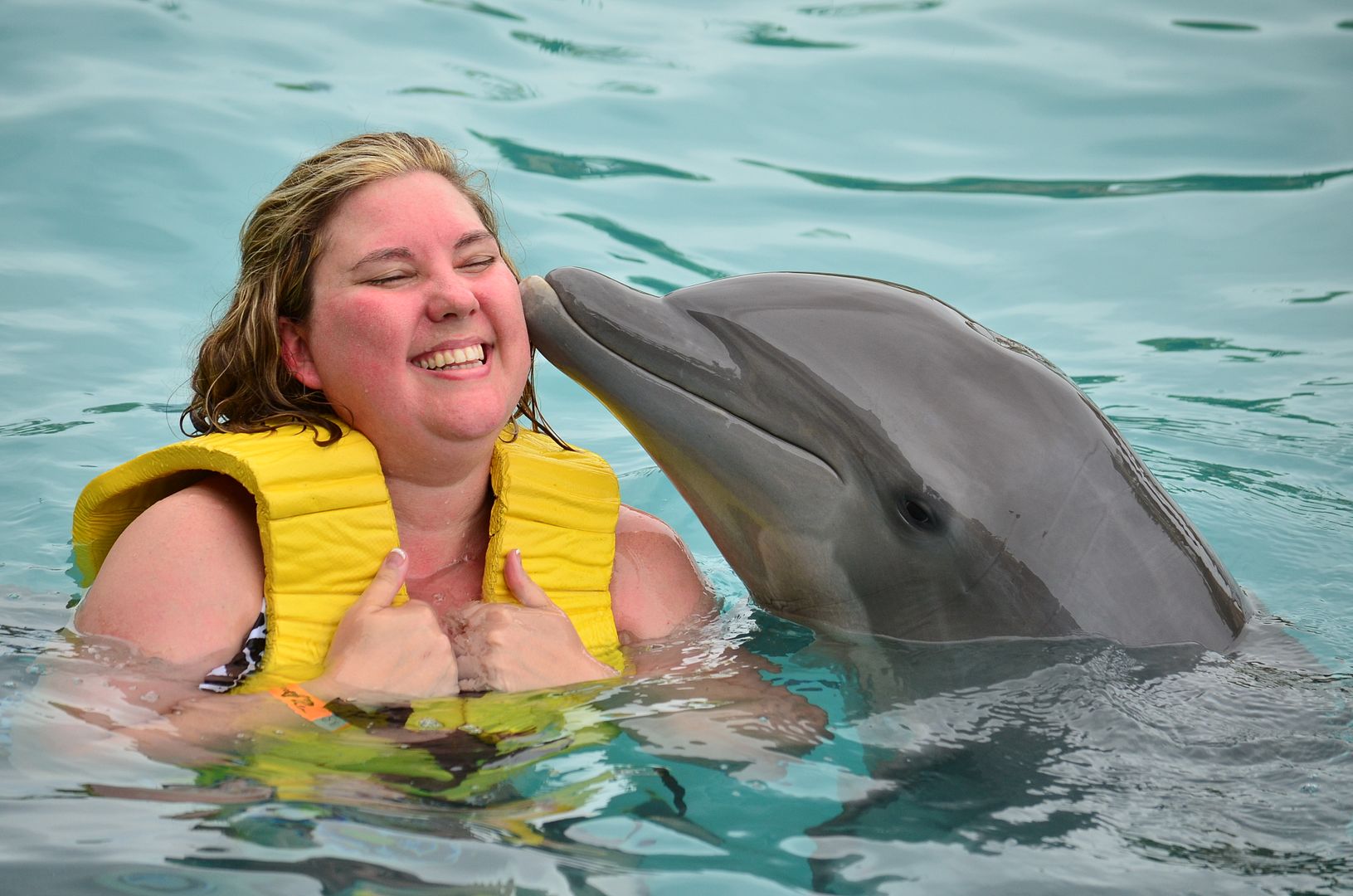 After our amazing experience, we headed up to pick pictures. They do not let you take your own photos or videos so that they can make more money, and I will warn you, its not cheap. However, the photographers did a GREAT job, and we ended up choosing from over 70 pictures!
I took B to change and run around while N looked over pictures, and this ended up being a good idea. Since N was spending so much time looking and deciding, they started haggling over price. In the end, we got EVERY picture digitally, 2 printed, and a DVD with the video for $200 bucks!! That really isn't bad!
Once we got the pictures settled, we sat down for the included lunch. B had a quesadilla, and N and I each had fajitas. The food was VERY good and enough to fill us up. We also got to sit on a ledge while we ate and watch the dolphins!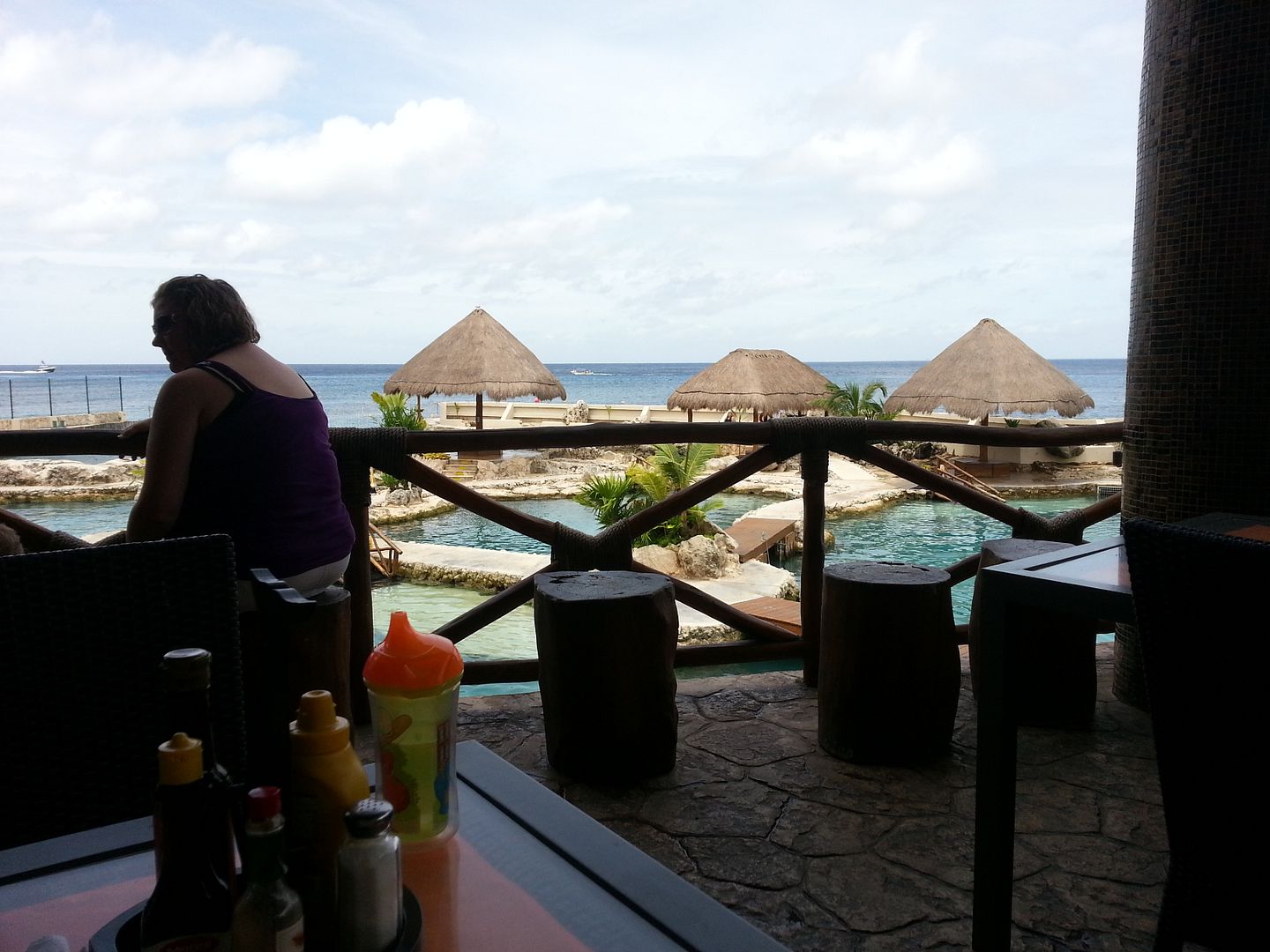 Once we were done, we got put back in a cab and taken back to the port. The port, as with all of them, is a bunch of shops and places to eat, so we decided to do some shopping. B didn't last long and eventually went in the Carrier while we shopped.
We didn't find much at first, but eventually wound up by the beach where this great shot of the ship presented itself!
We continued our shopping picking up the normal trinkets and t-shirts and other stuff. But the highlight of our shopping was the Cariloha store. We had heard of this place on the ship. They sell various fabric items made from bamboo, and WOW was it soft! If we were not planning to replace our bed in the near future, we would have gotten sheets, but instead we ended up with bath towel sets, and WOW are they great!! I will review them on their own post!!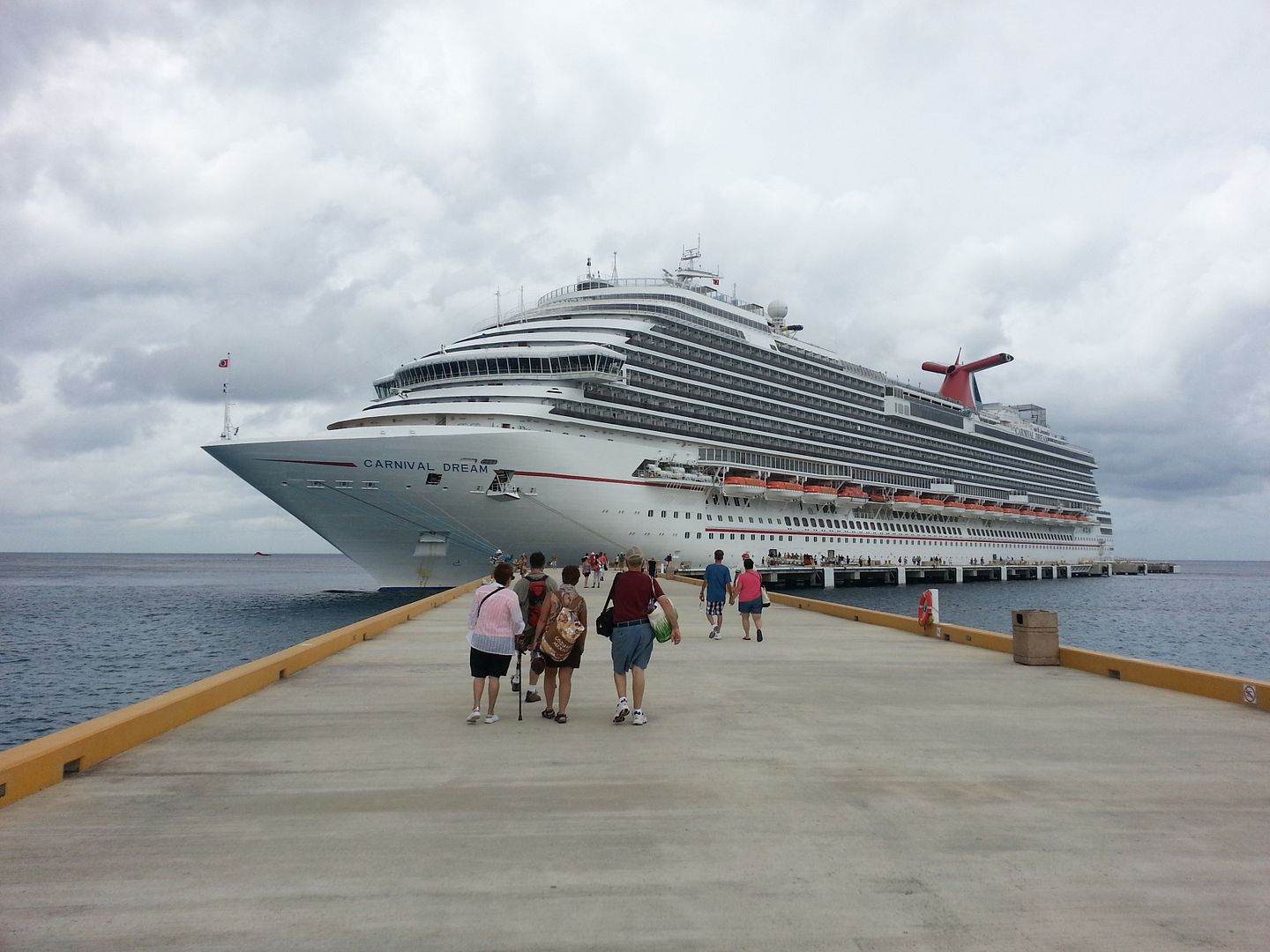 Finally it was time to head back to the ship, and again the boat posed for a picture
B didn't even wake up to smile, he was WORE OUT!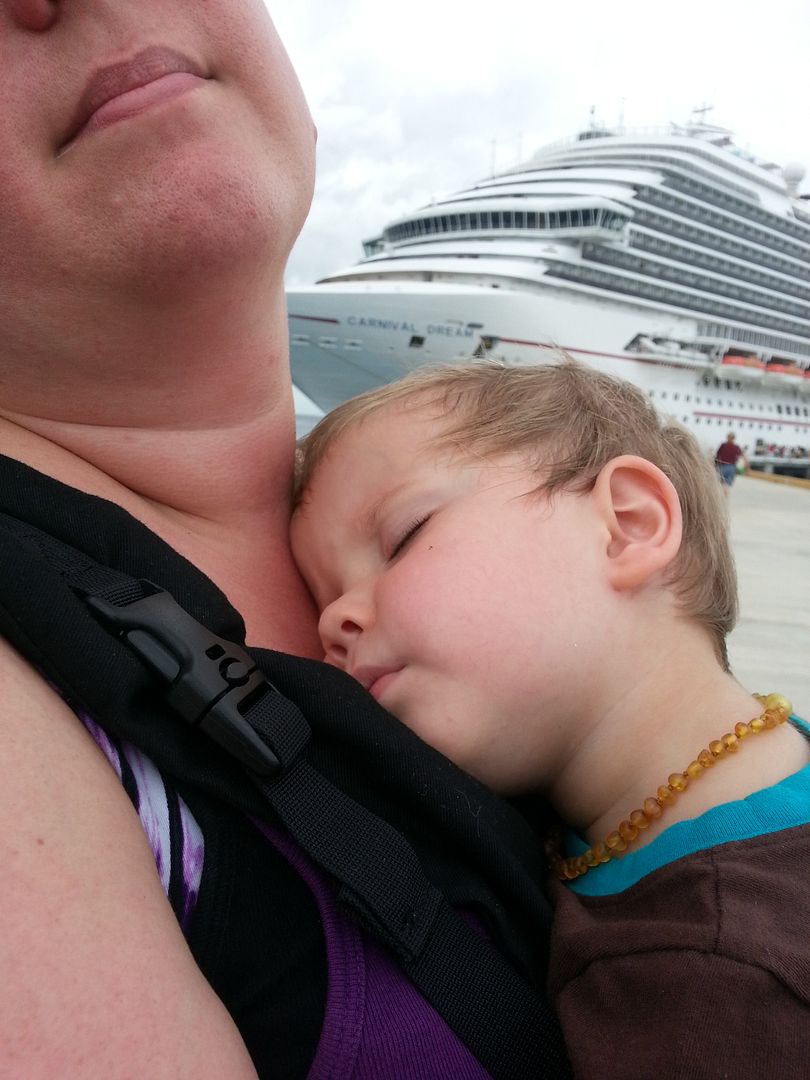 This is not the best panoramic shot I took, but I think its neat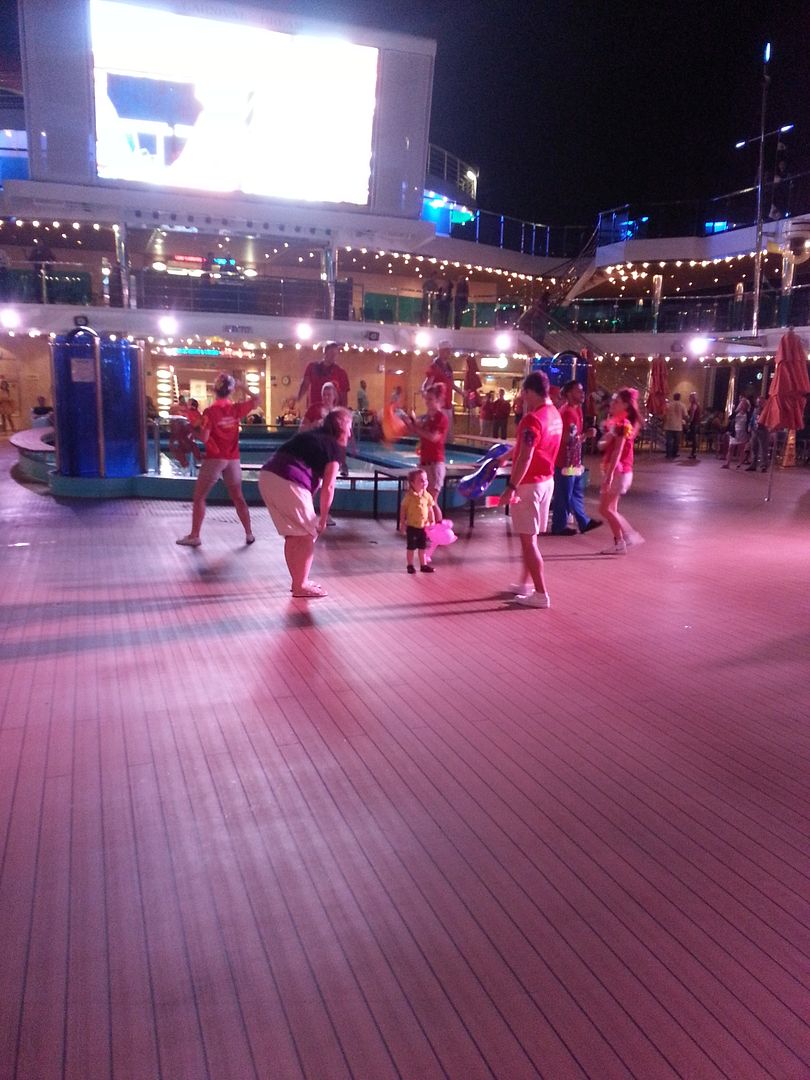 After naps on the ship, and a great dinner in the main dining room, we headed up to the deck for a dance party. On the way there, we ran into the entertainment staff, and B started talking to them. One of the staff gave B an inflated Flamingo who is now named Pinky and off to dance we all went!
B danced and danced, and picked up lots of beads and sunglasses, and an inflatable fish that he shared with another little boy (on his own!! SOOO PROUD!)
The rain eventually ran us off the deck, and we headed up to our room to call it an evening.
And, of course, we had to snap a picture of today's towel animal!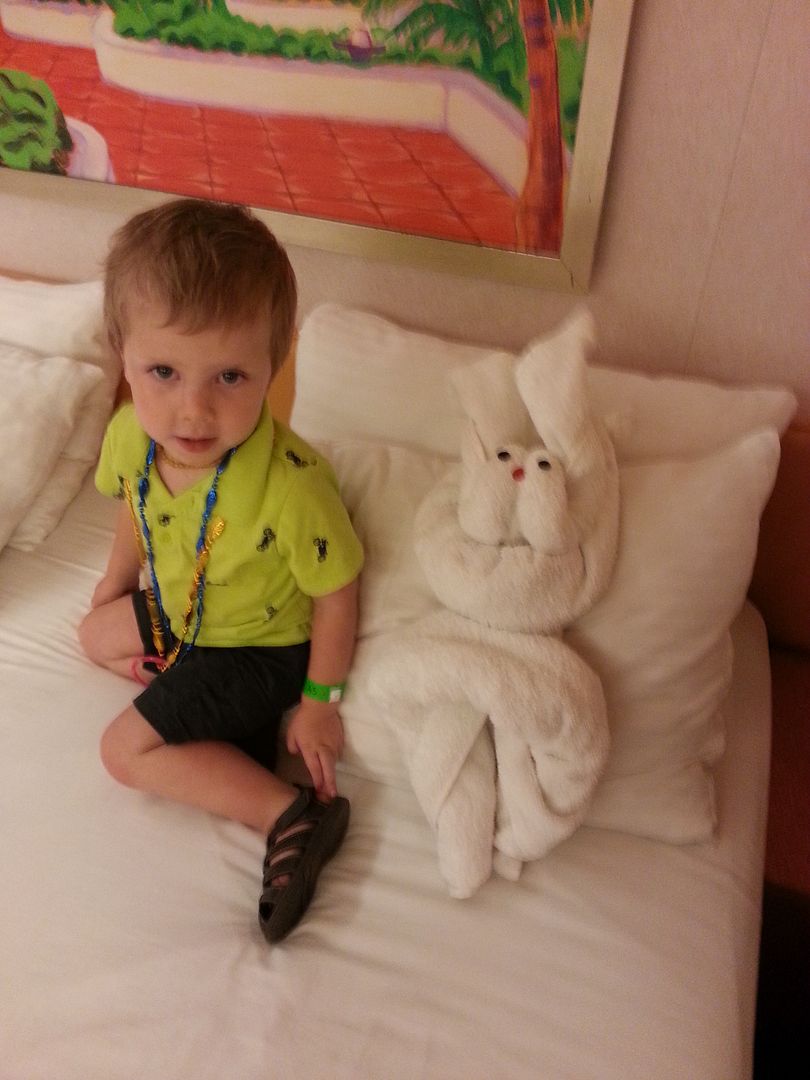 That was it for Cozumel! We had a great time! Tomorrow... ROATAN!