And so we come to Wednesday, a day my Wife was very much looking forward to. BELIZE!!
10 years ago, on our honeymoon, we came to Belize. We took a carnival based excursion to Goff's Caye, and despite TERRIBLE weather and us both getting sea sick, we enjoyed ourselves... SO.. we decided to go back.
Carnival no longer offers this excursion, but we were able to book a trip to the Caye through Island Marketing.
Since we had FTTF, we had priority tender, so as soon as we were ready, we headed down to the lounge where they were meeting. We were on a tender within 20 minutes: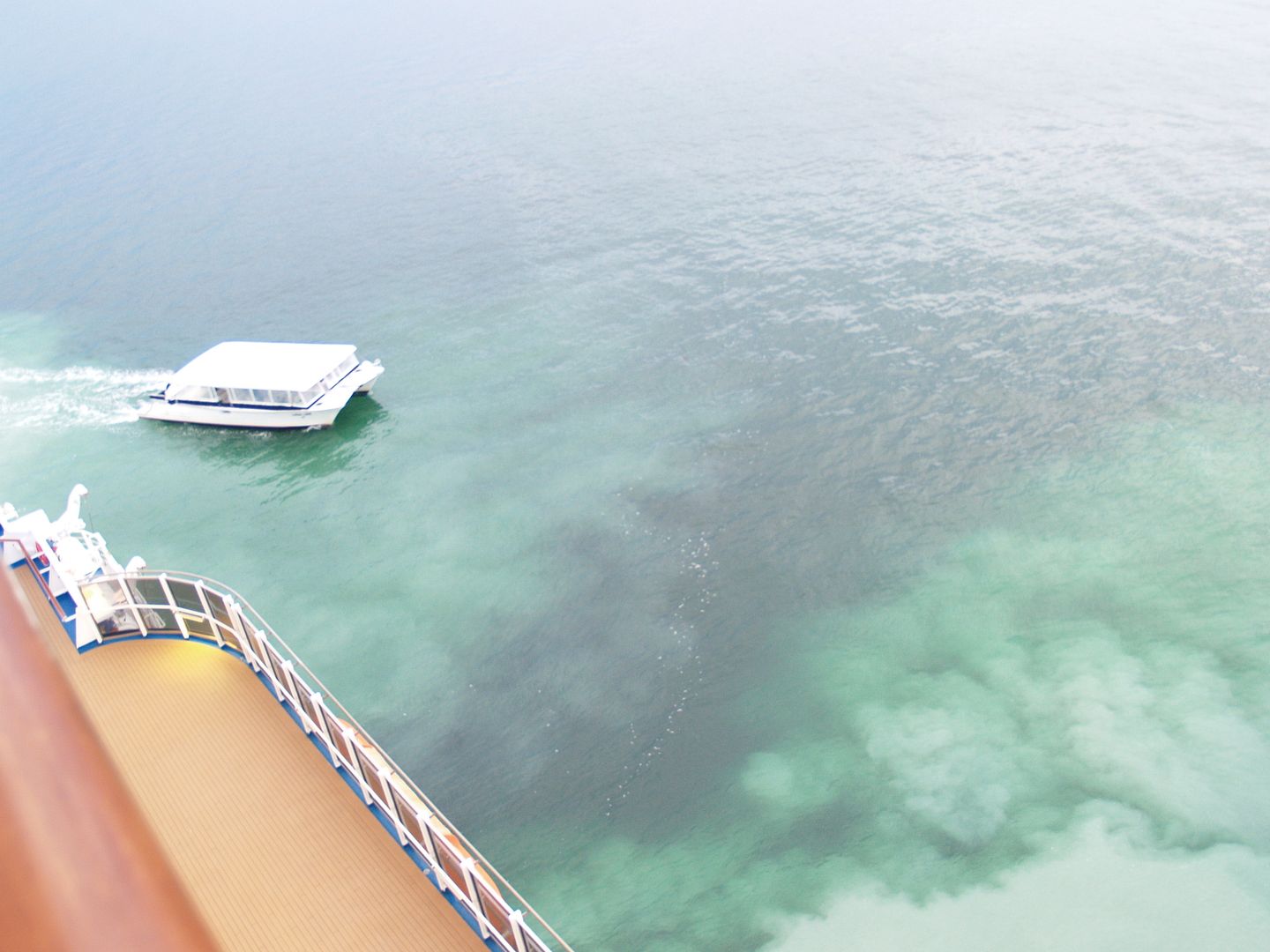 A short 20 minute ride and we were on shore. As there was at each port, there is a little cruise terminal setup with shops and a bar, and stuff. We walked around a bit, we checked in with Island Marketing, and eventually made our way to Diamonds International to do a little watch shopping while we waiting for our tour to start.
A short while later, we were on a motor boat headed out to Paradise!
We passed by the Dream on our way out to Goff's Caye:
B was sporting his own stylish life vest:
Shortly before getting to the island, we noticed a dolphin swimming with us and had to stop and watch it. I swear I got pictures, but I can't find one!
Oh well, after the 30ish minute ride, we arrived, and it was just like I remember it!:
After getting settled, the Wife and Son headed to the beach, and the rest of us went on the snorkeling tour. I've got video of that as well!
It was a great snorkeling tour, and just as everyone was getting back on the boat to head back to the island for the "beach time", the guide I was closest to gathered a group to swim back to the island instead of go back via boat.
I decided to stay, not knowing it was the long way around the island.. and the other side was a HUGE current... I was exhausted!
Back on Goff's Caye, we settled down for lunch of grilled lobster for the adults, and a hot dog in a tortilla for the little one.. it was all VERY yummy!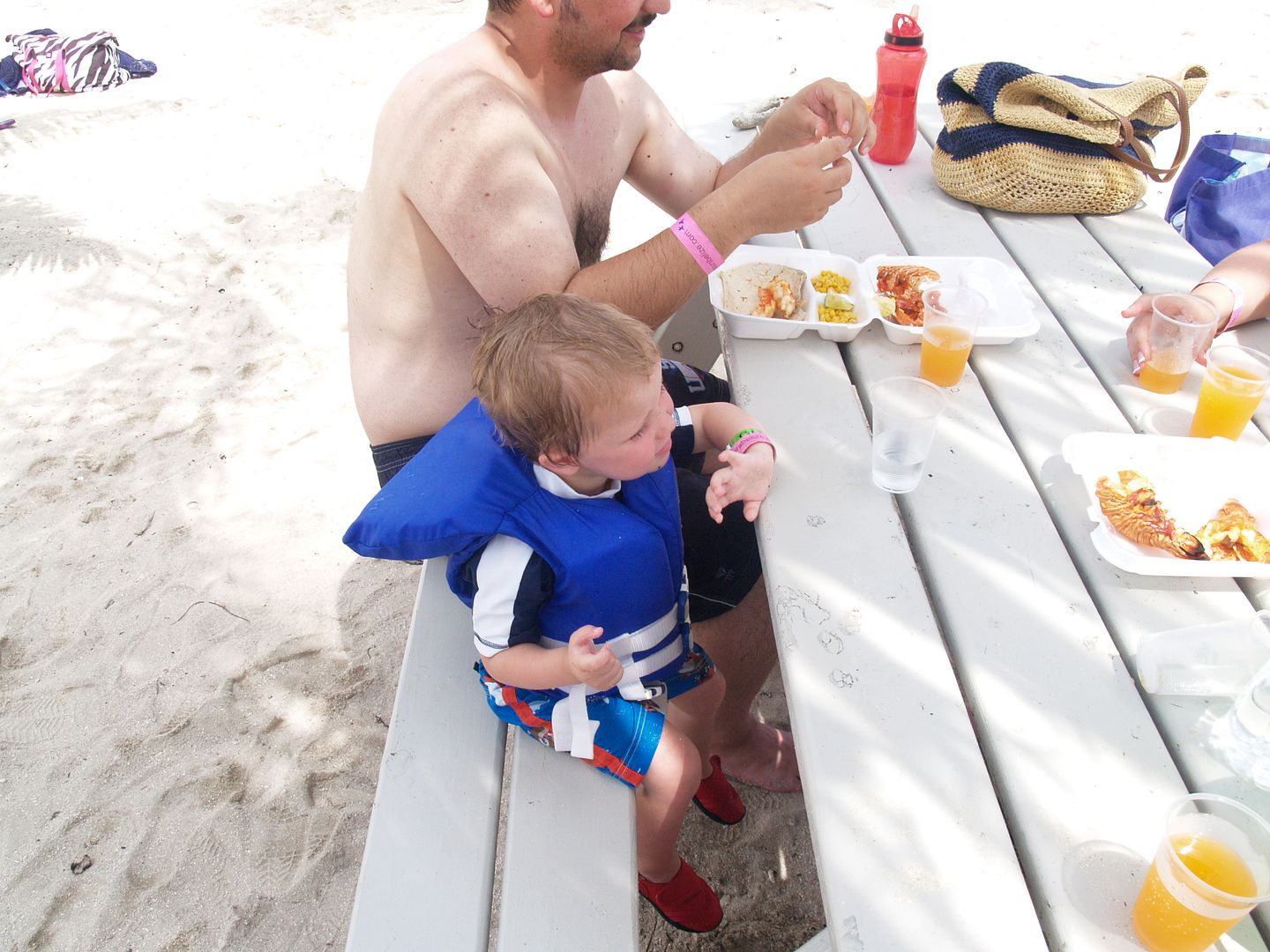 The food was not included, however Rum Punch was, and it was quite potent!
Goff's Caye a TINY place, with a small bathroom, and a small pavilion where they cook food and a local sells some jewlery and other hand crafted items.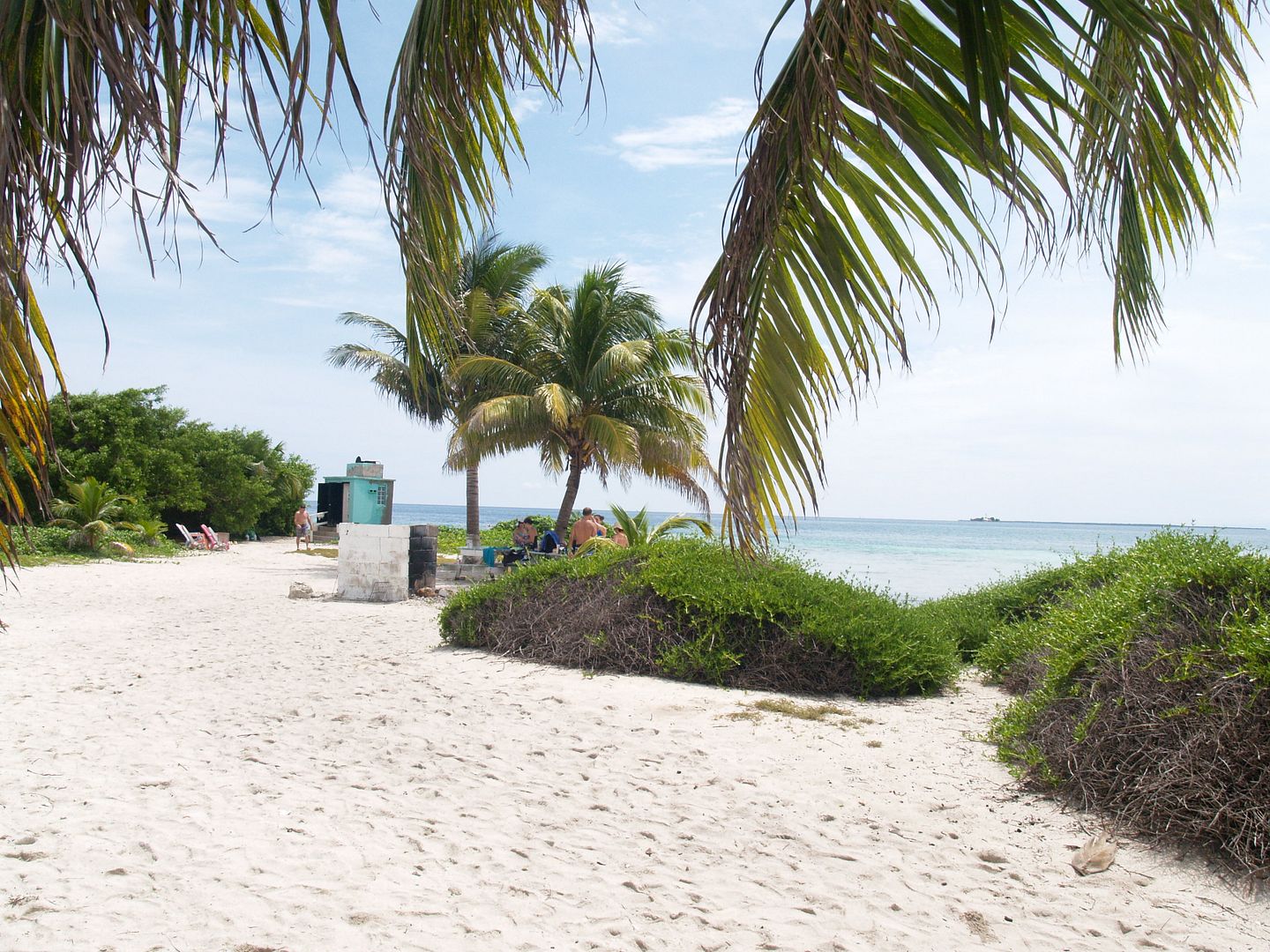 We had about an hour or so left, so we hit the beach and started playing!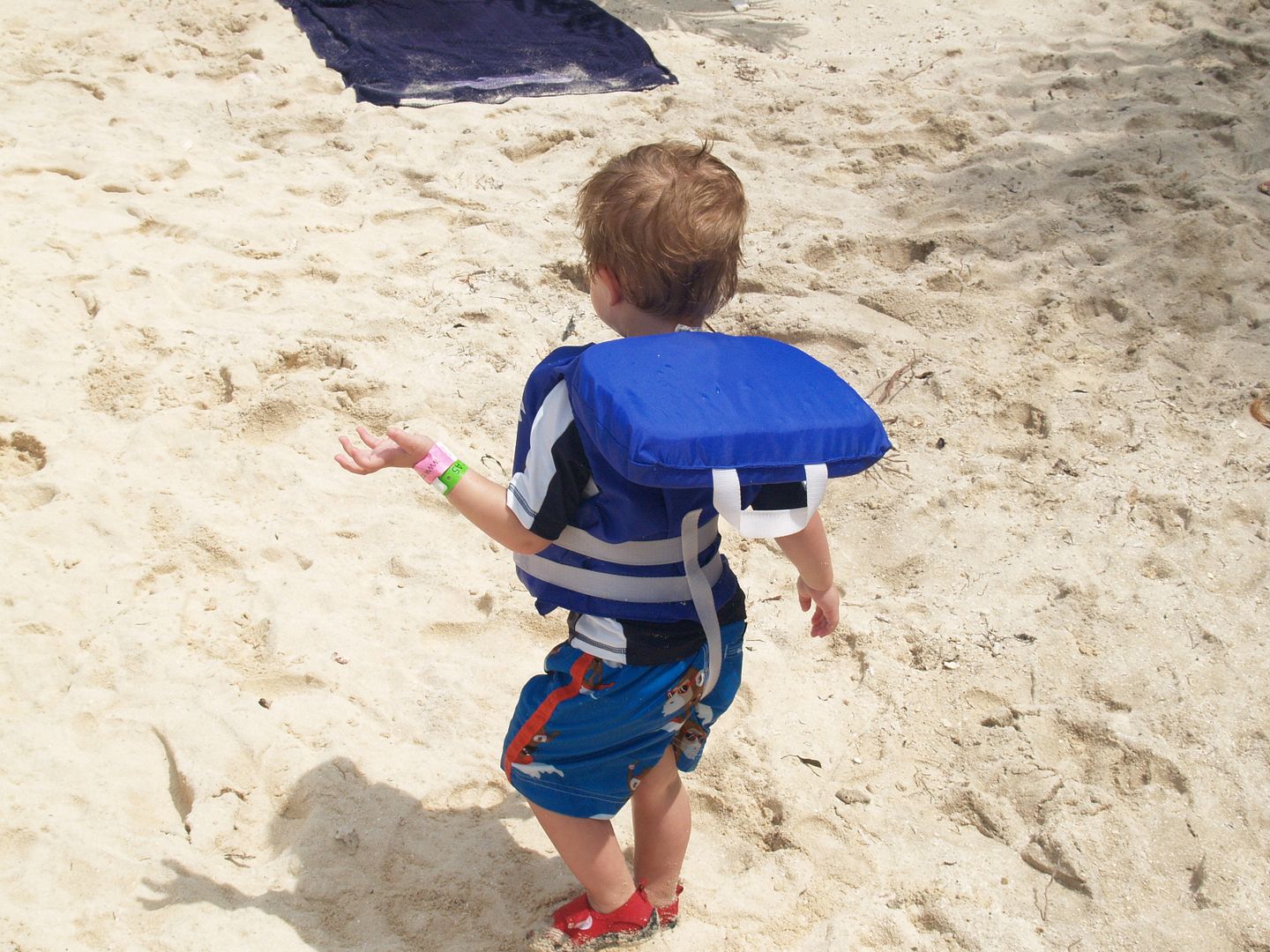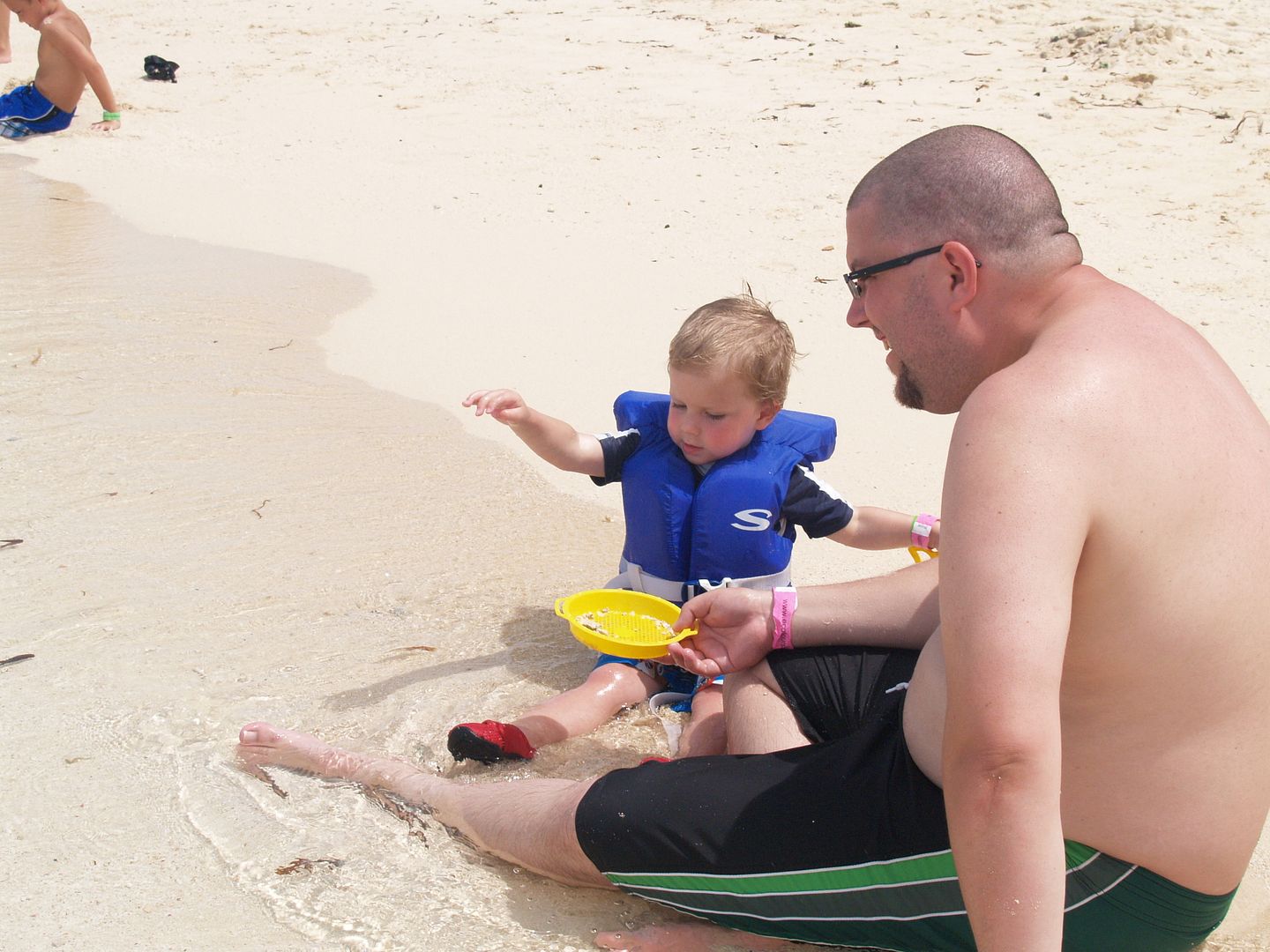 Eventually, it was time to go, and we had to wave good by to the little slice of Paradise!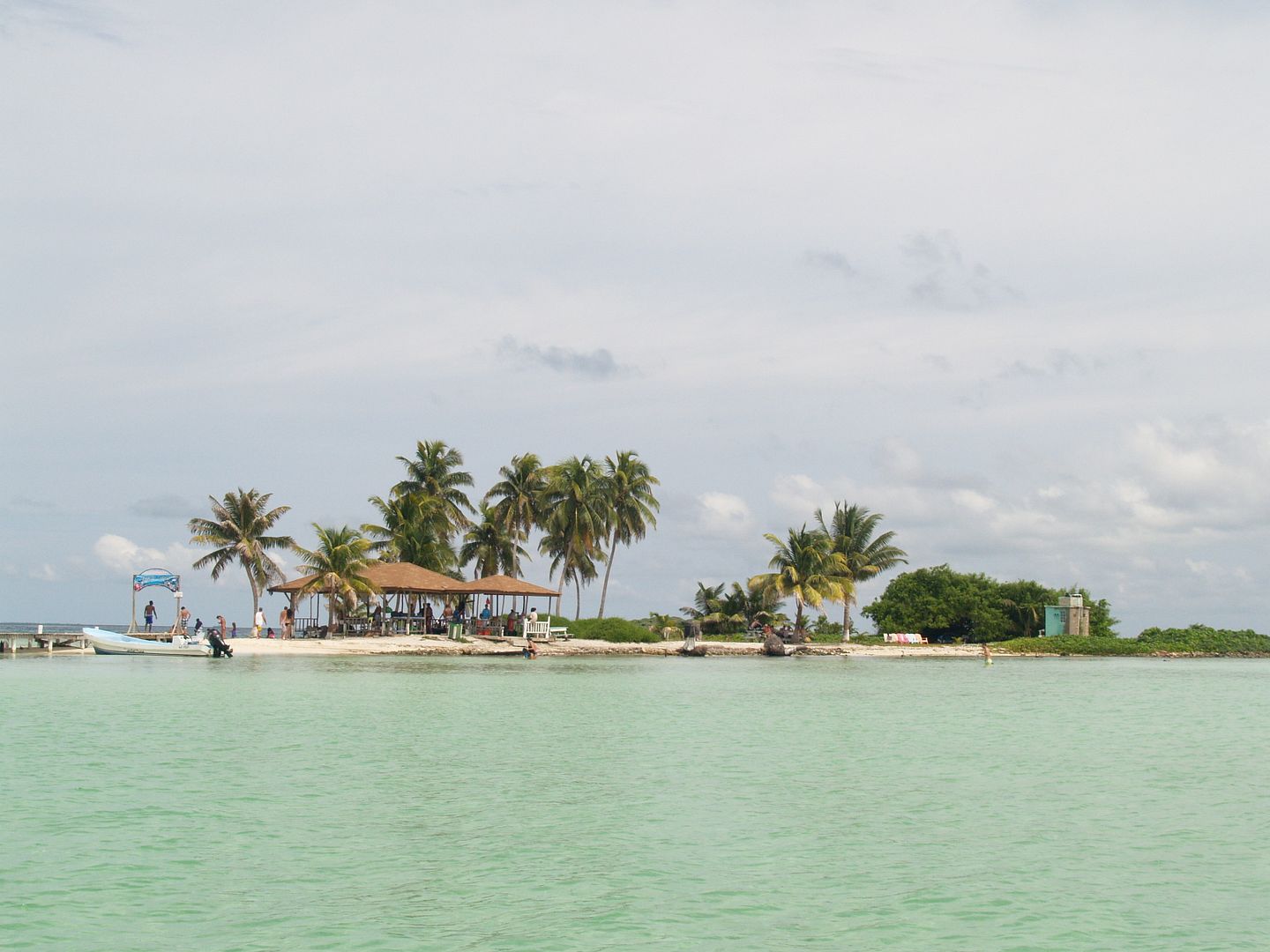 The 30ish minute ride back to Belize City was uneventful, and B was WORE OUT!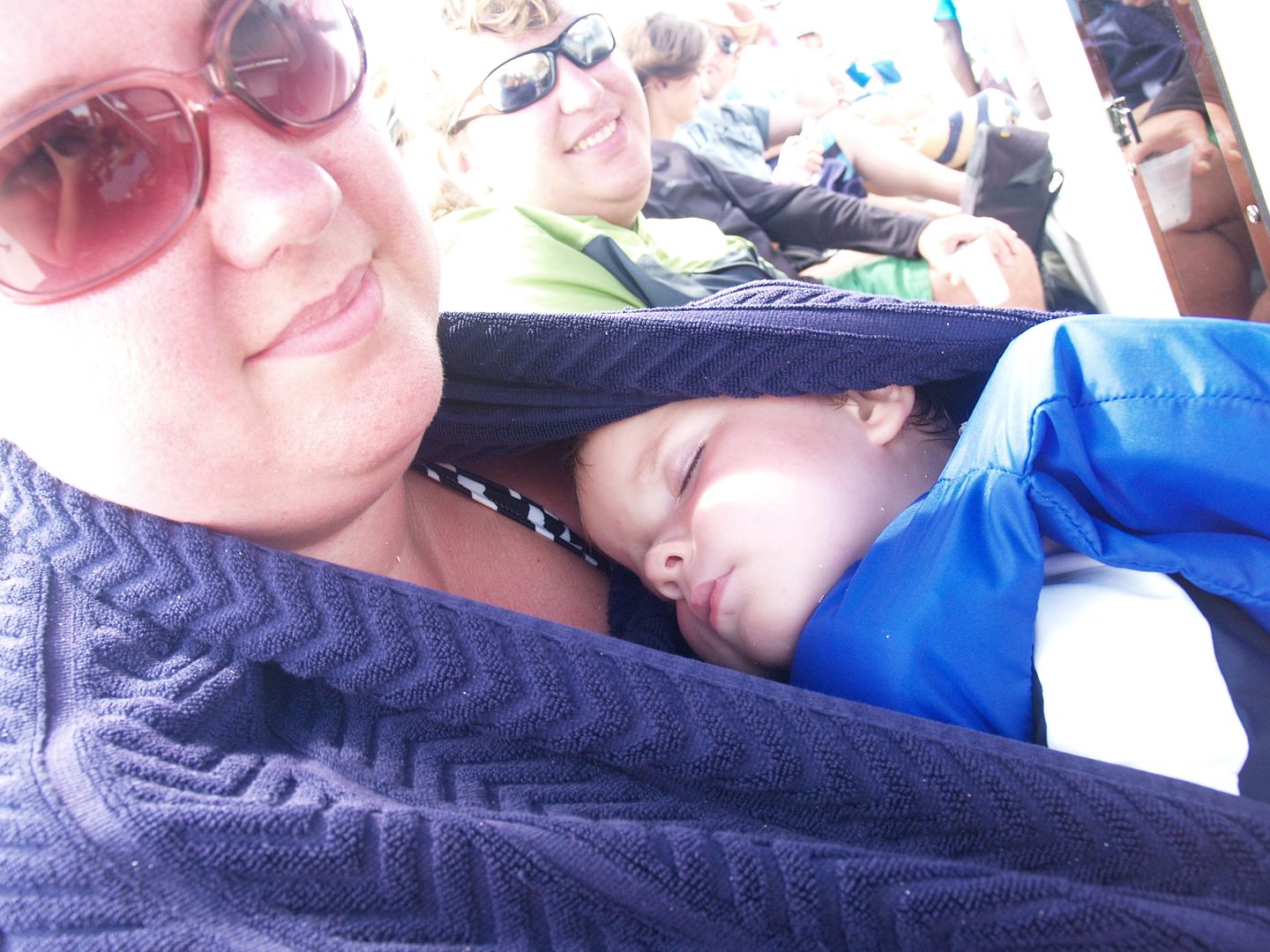 We got off the boat, heard the usual blurb about tipping, but even more than that, the Guides SPECIFICALLY asked us to submit a review on TripAdvisor and Cruise Critic! They are quite aware of the online community.
Island Marketing did a great job with the entire excursion. I would HIGHLY recommend this company if you want to visit Goff's Caye, and they offered trips to other places as well!
We had a little bit of time, left, and I REALLY wanted a Belkin Beer. I had heard about it, and I am a bit of a beer aficionado (wife would say snob). The Wet Lizard right there at the pier was selling Belkins 2 for $5. I ordered a light lager, and a dark lager. After a HOT day on an island, they were GREAT! I also asked if I could keep the bottle (they poured them in a glass), and they said it would be an extra dollar... no problem!! Bottle Secured (for a friend's collection).
After grabbing our beers, we headed back to Diamonds International to look at watches. I fell in love with one and it hopped onto my wrist! While completing the sale, the sales staff noticed I had finished my beer and shortly thereafter a fresh bottle of Belkin was placed in my hand!! GOOD SERVICE!!
Our time in Belize was done, so we headed back to the ship via the tender, and we actually ended up on the LAST tender back. B was awake at this point, but still very tried and content to snuggle!
Here is the Dream waiting to greet us back "home"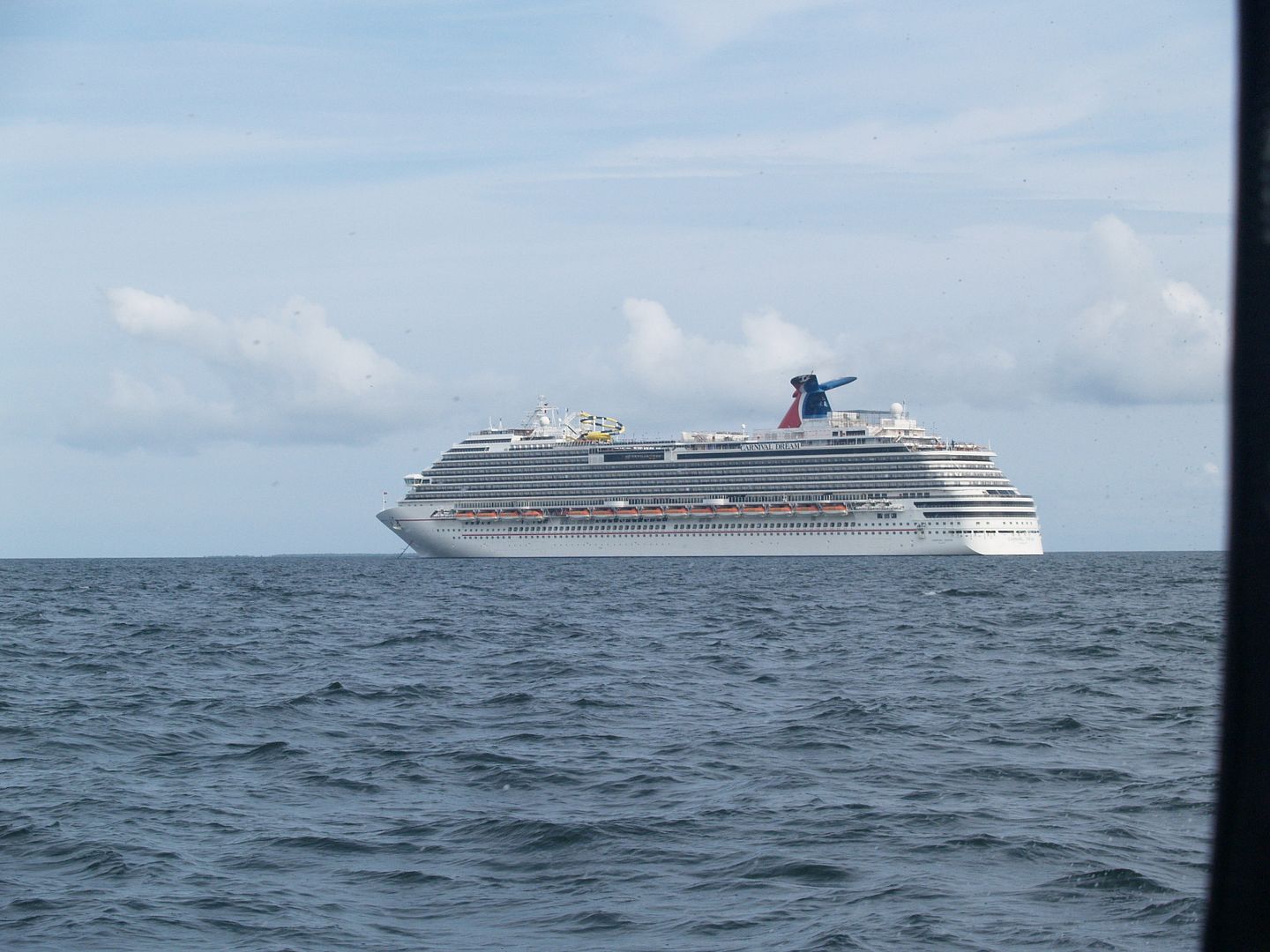 IT really is a BIG ship!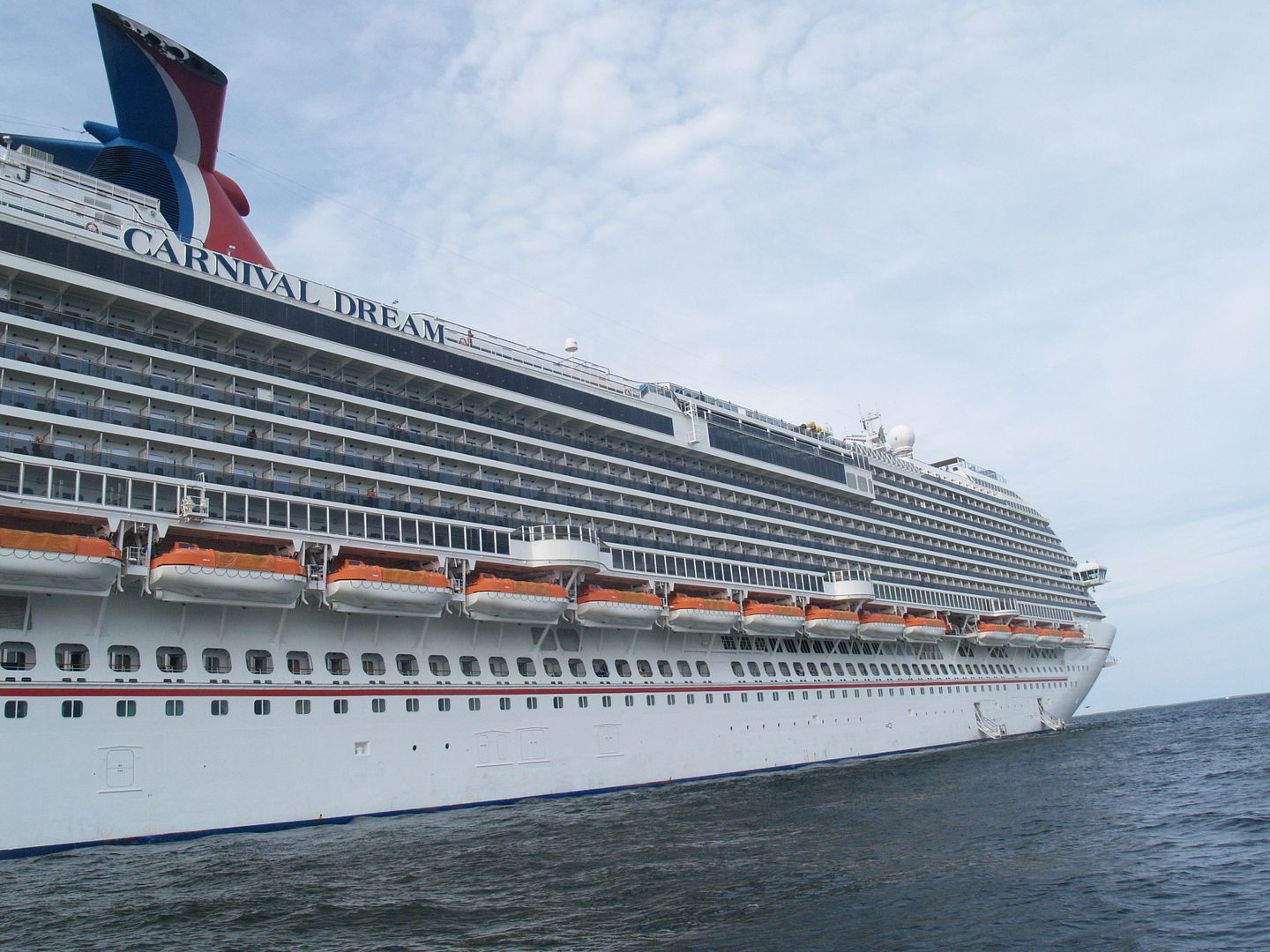 And soon we were back in our staterooms changing and showering for the evening's activities!
So, getting back to our rooms, we started to realize that I had gotten a TERRIBLE sunburn! Showering hurt, changing hurt, everything hurt, but we had dinner to go to!
Honestly, I didn't make it long at dinner, but I did snap a pic of some delicious enchiladas: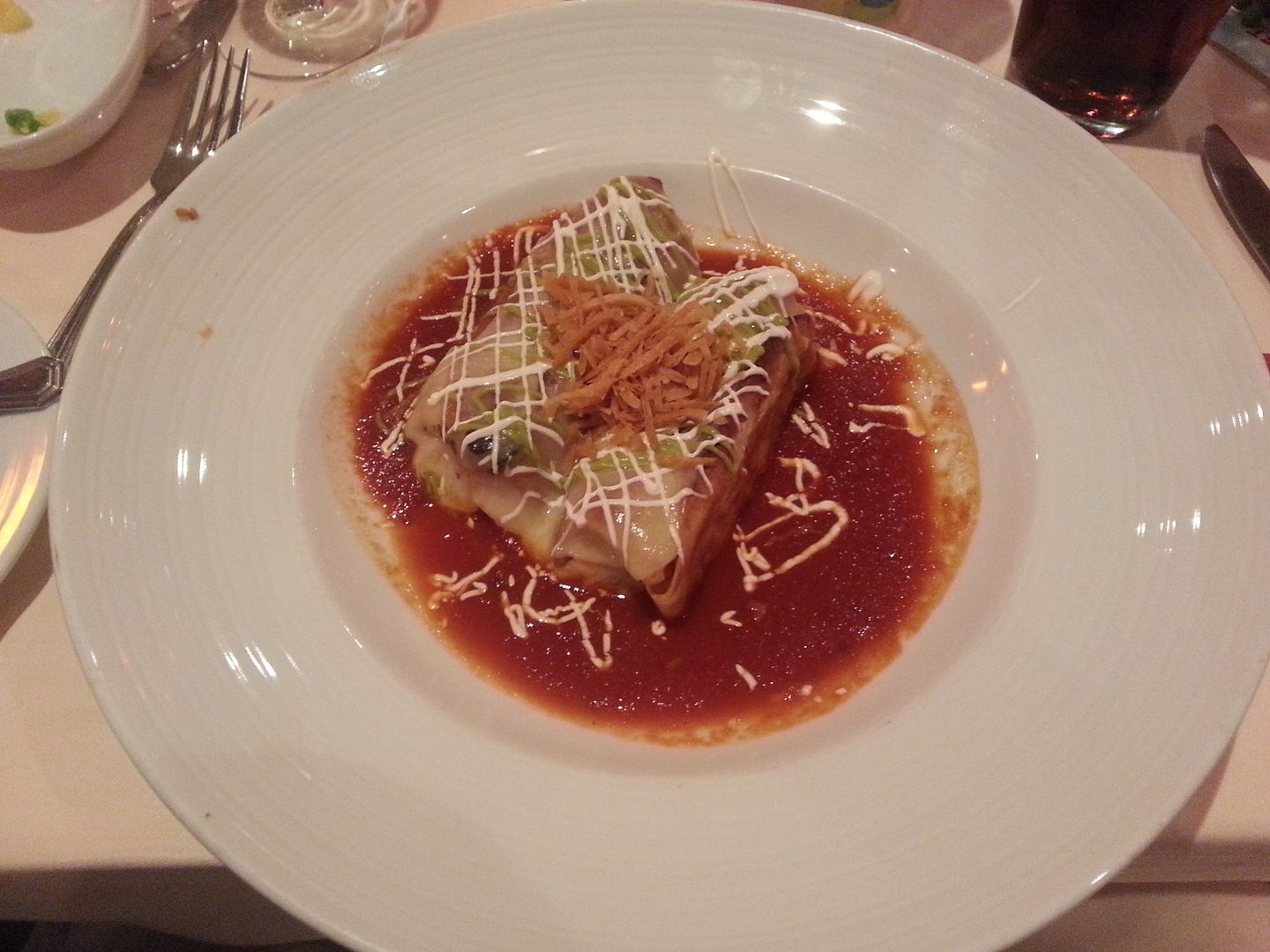 Even before dinner was done, I wasn't feeling well at all... my back hurt from the sunburn, and I had completely lost my apetite. Our nurse friend who was with us said I was probably experiencing a minor "sun stroke", or basic over exposure! I have to remember to drink LOTS of water when out in the sun.
I headed back before desert to get some rest and layed down. I got a couple of hours of sleep and woke to the wife bringing me some Tiramisu from the dining room (my fav). I got up and we hung out a little around the ship while B played at Camp Carnival.
The Moon tried to peek out this evening, and this was the best picture I could get of it:
Still not feeling well, and in pain, we actually hit the bed pretty early this evening.