The next morning... Costa Maya!
Not only was it Costa Maya day, but it was international Talk Like a Pirate Day.. and the Cruise Director got into it!! The atrium was also decorated... sorry for the blurry pic: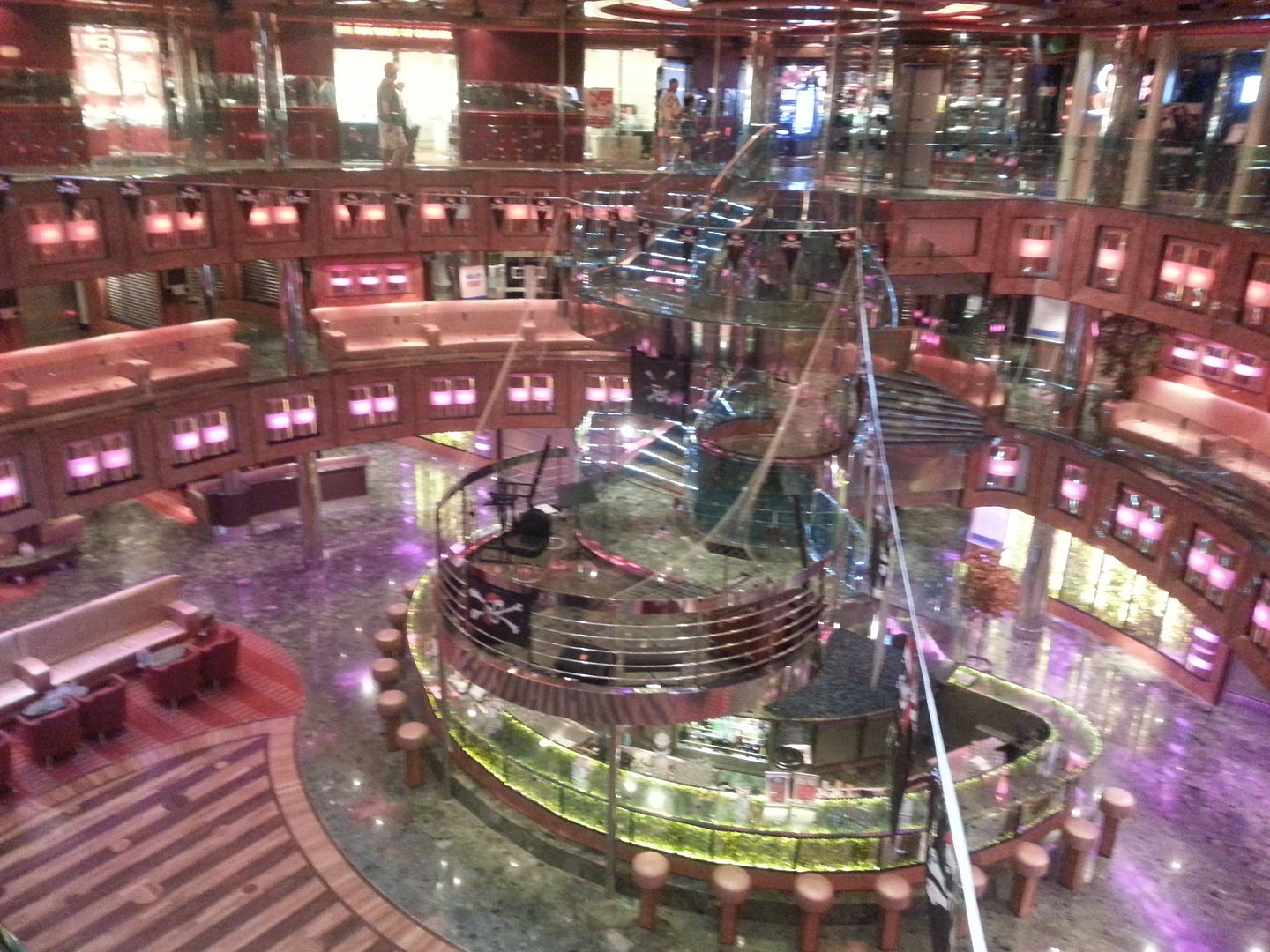 We ran down to get breakfast before heading on shore. We were scheduled to go visit Almplena Eco Beach Resort for a day of sun and beach time, but didn't have a schedule. The arrival in Costa Maya was 7am, but we did decide to push back getting off till 8am...
I'm glad we did, because by the time 8am rolled around, we were hearing announcements about the delay in docking. The seas were quite rough and the Captain was having trouble getting us docked.... IT took over 3 hours (some before the 7am schedule) for him to get us tied up and docked. Because of this they extended our time by one hour.
We made our way down to the gangway and really got a taste of how bad it was... the plank was moving back and forth 2-3 feet as the ship rocked and rolled! I've got a crazy video of it, I'll share later. Here is a pic to give you an idea:
We got off the ship and headed through the cruise port and all its shops, headed to our instructed taxi stand. I will say, this was quite a walk, and not well marked, but we made it, got a taxi, and headed tword Almplena. About 10 minutes into the 20 minute drive, our driver (who spoke no english) stopped to talk to another driver going the other way with a full load of people. The other driver spoke english, and told us that the road was flooded and we would not be able to get there.
Our driver took us back to the port, quite dissapointed. We paid him and headed back onto the ship to regroup. We dropped B off at Camp Carnival as they were providing lunch that day, and I headed down to the Fun Zone to log on and email Almplena.
We then decided to go back out and do some shopping.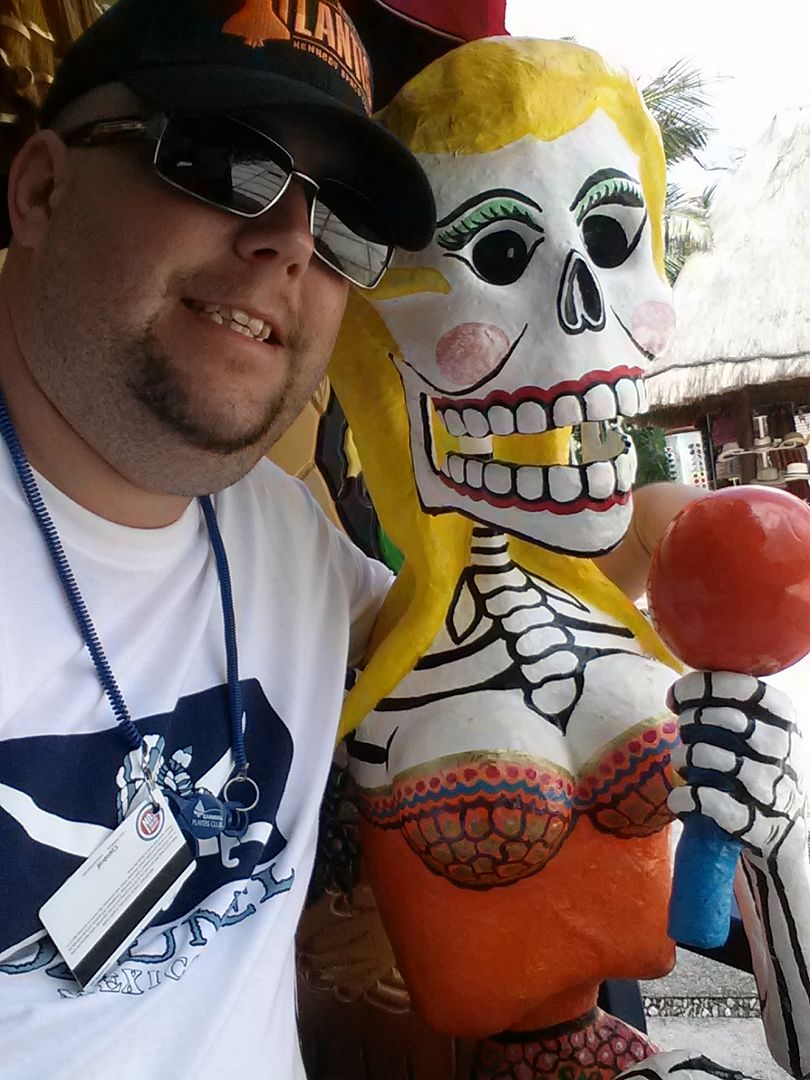 I was still pretty tired, and quite sunburnt, so I'll say I wasn't enthusiastic about shopping, but I went along. I would have been content to lounge in the huge pool and stay cool. While shopping in a jewlery store, I noticed the sky starting to get VERY dark. I warned the group, and they barely acknowledged me.... and I wish they did.
Finally it got dark enough they noticed, and we took off for the ship, just after the checkpoint on the pier (with about a 3-400 yard walk still) the skies OPENED UP!! It rained hard enough to be painful and we ran along the pier just in time to wait in line... ugh. We finally got back on board, headed up to change clothes and ran down to grab lunch in the dining room. Oh well, a bit of a disappointing day on shore, but at least we had a GORGEOUS ship to spend time on!
At lunch we had a great view of the port as the sun came out (DOH!):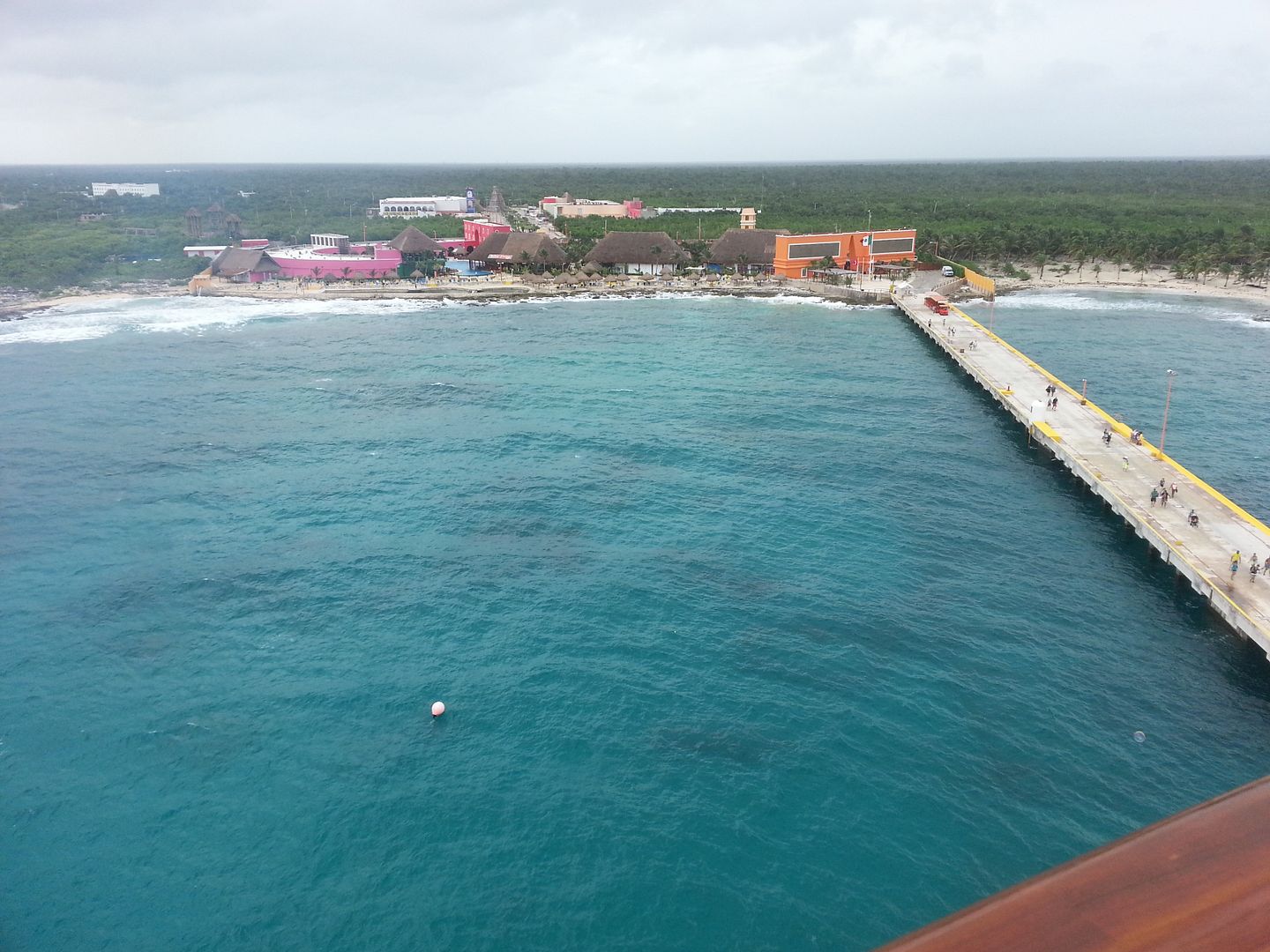 I learned later via email that Almplena Eco Resort refunded our deposits, but indicated that they tried to work with the taxi company to get us there. Aparently, mini vans and trucks had no problem getting around the ONE bad spot, and she even offered to pick up travelers at the flooded section in her truck, but the taxi company didn't want to play nice.
I guess I'll just have to go back to Costa Maya and visit in nicer weather!
Continuing with the review!!
After a late lunch, we picked up B and headed back to the room for a nap. This was the 2nd Formal Night, but we opted to dress down a bit. Collared shirts and a dress, but much less formal. We got all dressed and headed to an uneventful dinner. I was feeling much better after drinking a TON of water and getting rest.
There was a football game on the lido after dinner, so B went back to Camp Carnival and we headed to do some more shopping (cheap watch sets and other stuff). I ran back to the room, and got the first glance at our "Towel Animal" for the day: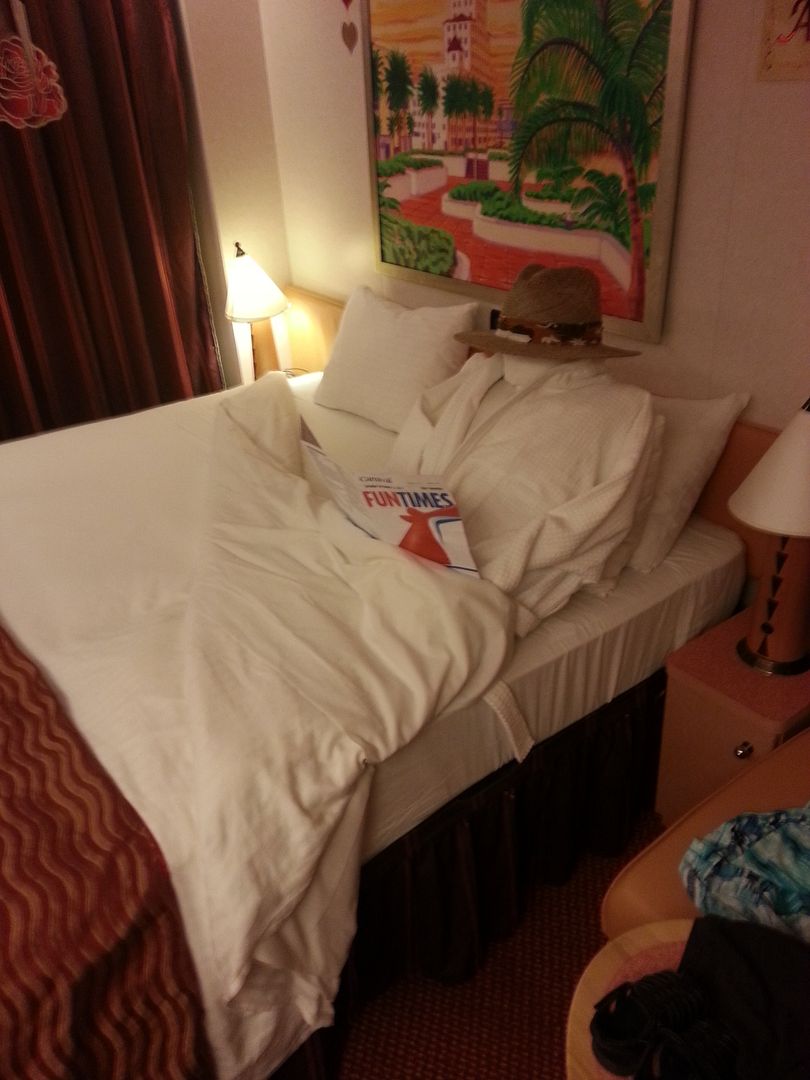 One of our friends and I then headed out on deck, secured some Beers and free Popcorn, and settled in to watch some football:
As you can see, they got the screen fixed. This is a great way to watch the game!
At half time, I decided to call it quits, we went and got B and headed back to our room to get some sleep!
The next day would be our last Day.. a "Fun Day at Sea" and we had a big plan for the morning!!