Hello there blog readers!!
I'll start by apologizing, I really should do a better job writing blog posts, but life gets busy, and we've been enjoying it!!!
So on to the meat of the post, the Chicago Train Day trip.
Our little man has quickly become obsessed with trains. He loves to play with them, watch youtube videos of them, talk about them, see them in person, talk about them, pretend he is an engineer or conducter, and did I mention talk about them?
Well, we got the idea in our head that we would fill his day with trains, and WOW did it turn out great!!
Getting on the Train
The day started with a surprise (to him) ride on a train. It went like this:
A: B, we are going to Chicago today, go get in the Van
B: Ok daddy
time passes....
A: B, do you wanna stop at the train station and see a train?
B: YEA!!!! Can we Daddy?
A: Sure
We stop at the station, and walk out to the platform. While waiting for the train to arrive:
B: Mommy, can we ride the train?
N: Daddy, what do you think?
A: Sure, why not
B: (eyes wide) REALLY!?!?!
Of course, we already had tickets, a day bag packed, and the van parked in the parking garage.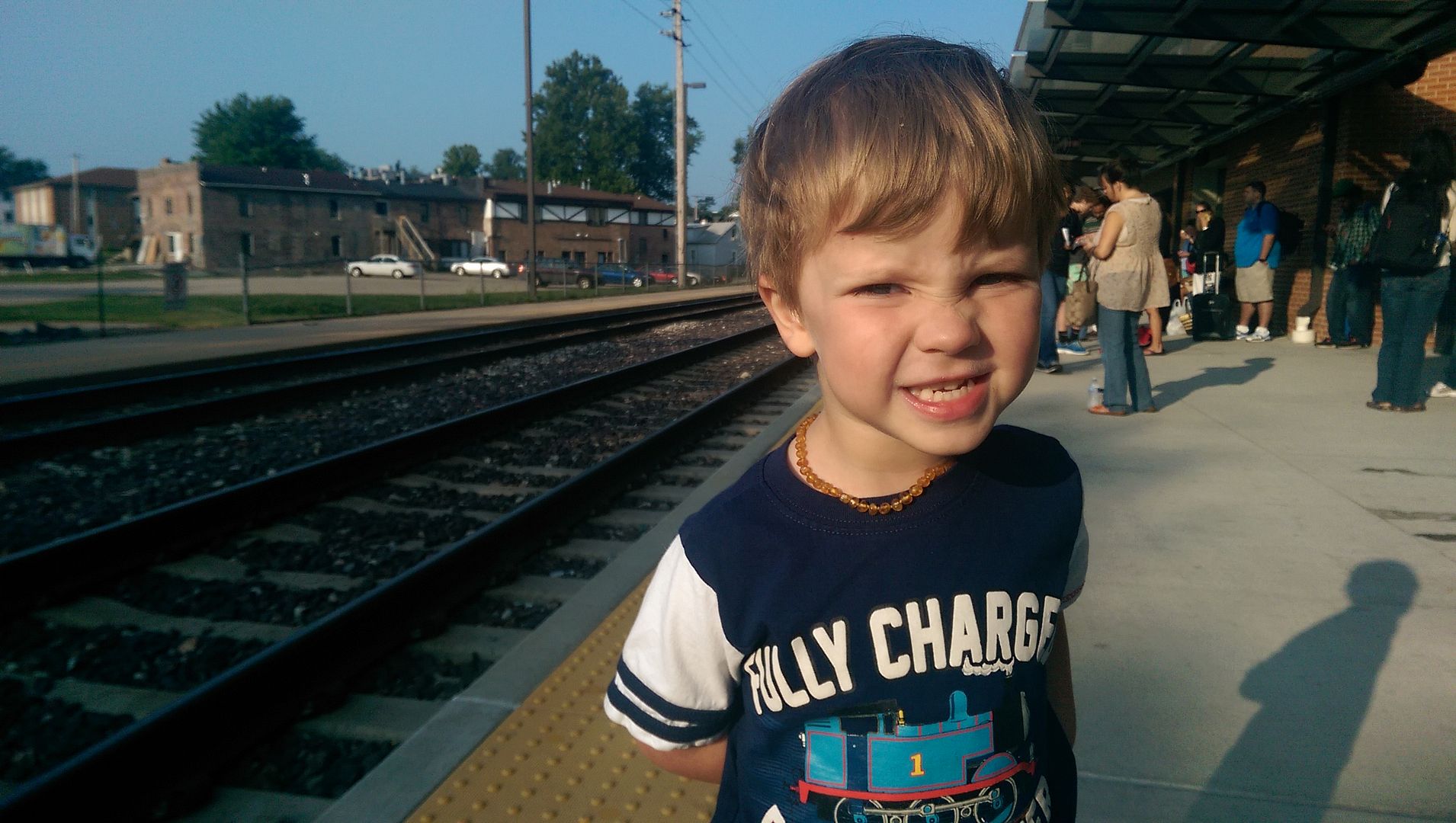 A few minutes later, the train arrives, and a very excited little boy gets to get ON the train!
The Ride to Chicago
Of course, we had to wear our engineer hat ON the train! This little boy was in hog heaven.
We purposely did not eat breakfast before we left, and once the train was moving, we told B that we were going to go to the dining car and eat..... yet MORE excitement!!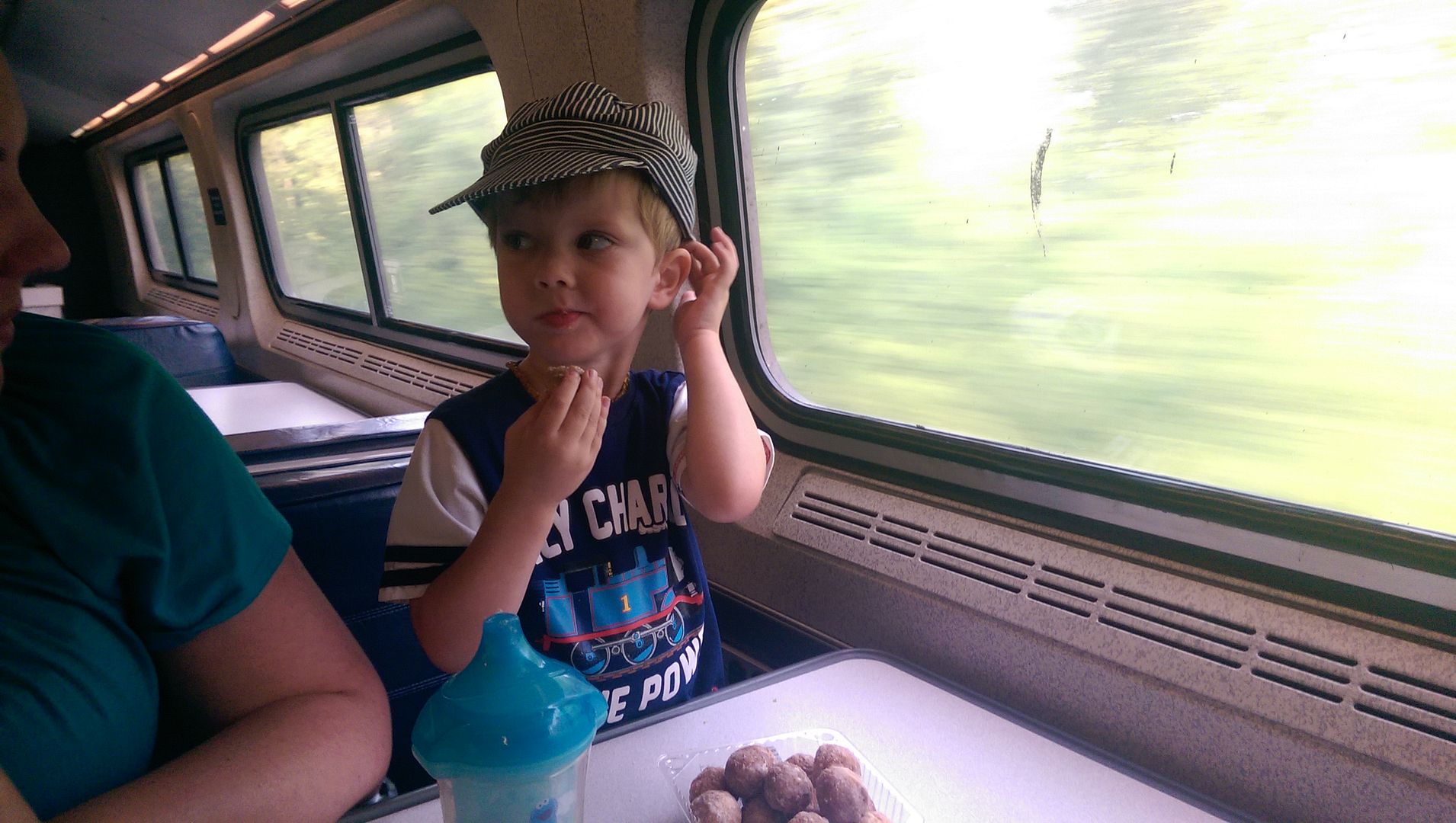 After breakfast, we settled in for the ride. Its about 2 hours from Normal, IL to downtown Chicago, and B was enthralled the entire trip. He did ask if there would be any tunnels (in his word, "time tunnels" as he loves dinasour train on PBS), and we told him he would have to ask the conductor. He then asked to go back to the dining car to look for him, so we did.
He located the conductor, and the gracious man answered all his questions, and even fielded a radio call from "Mr Topum Hat"..... can you say happy boy? The Conductor then punched a ticket for B to keep and we went back to our seat.
Arriving in Chicago
We arrived in Chicago at Union Station around 10am, and paused for a picture with the train. We took some time to sort our our transportation for the day, finding the kiosk to get a CTA Day pass for the busses and subway/L.
A word of advice here, if your going to Union Station, the kiosk to buy CTA passes is by the rest of the ticket windows, and there was ONLY one, and the line was LONG!! IF you can buy these online before hand, or have a friend who can pick one up for you, do it!!
I believe the weekend pass was like 8 bucks each for the adults, B was free, and that included unlimited rides on CTA trains and busses, but does not include the Metra trains.
We then located our bus to take us to our first stop of the day!
Museum of Science and Industry
We chose this museum, because they have 2 great train displays. One has actual cars and engines on static display surrounding a HUGE HO scale model train layout!!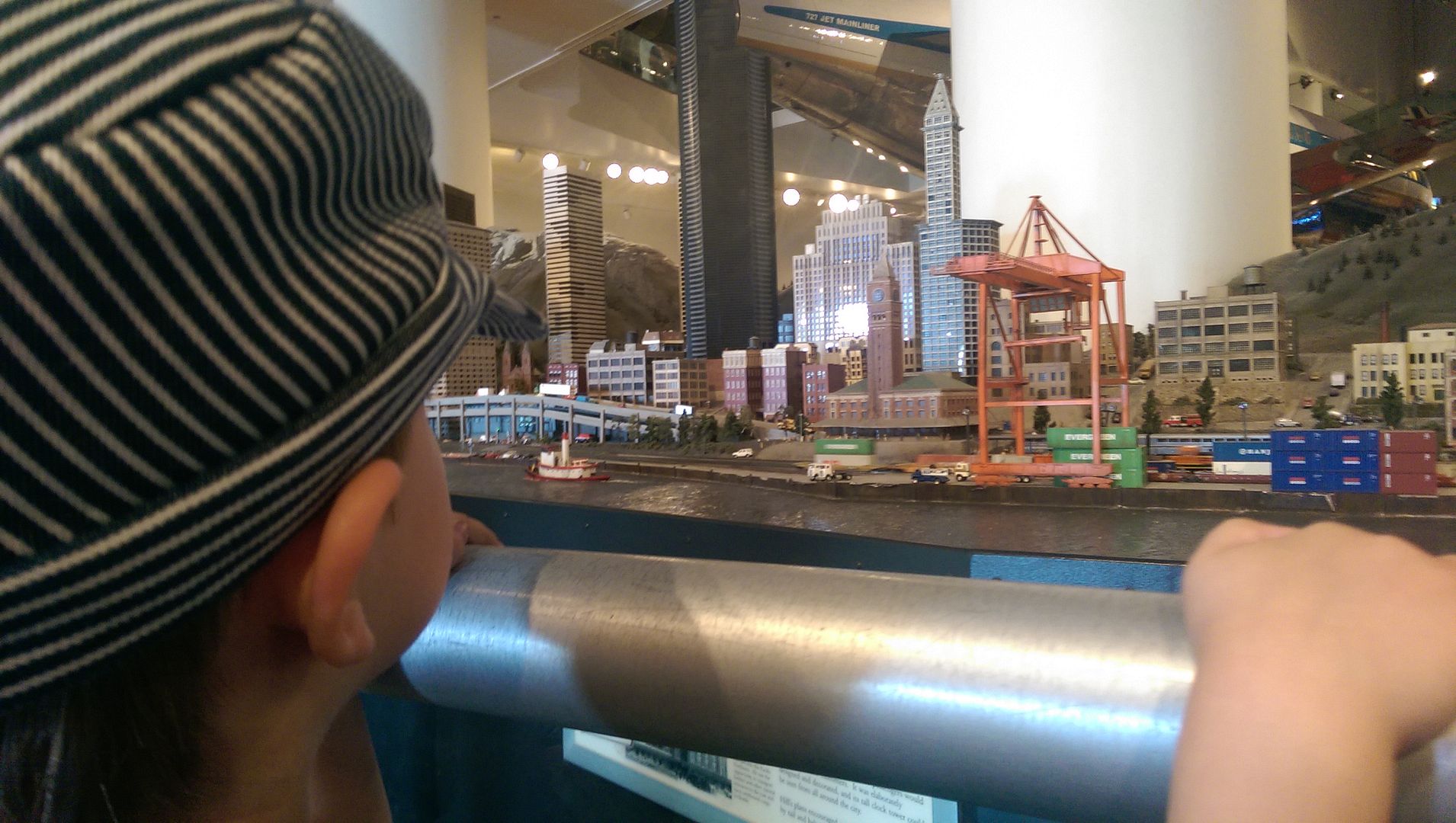 The other display was the Pioneer Zephyr train. This is a restored 1930s train that you can tour the inside of. It even has hydrolics underneath so you can feel the train moving like its on the track.
After seeing these two things, we grabbed a bite to eat at the cafe, which was actually REALLY good, and not badly priced. We then headed back to the bus to head to our next stop!
Now, unfortunatly, I don't have much in terms of pictures of the next part of the trip, and I'm sorry about that!
Riding the Metra and meeting friends
The next part of our adventure was meeting up with a friend of N's and his son who is a little younger than B, and then getting on the Metra train to travel to the north side of Chicago.
B was very excited to get to ride on another train, and even went potty on the train, and he was excited about that!!
Our destination was
Chicagoland Toys and Hobbies
to pick up something very special for B. We had called and pre-purchased an N-Scale train set for him.
Chicagoland Toys and Hobbies
Its a short walk from the train station to the store, and then we entered heaven for a 3 year old obsessed with trains! One of the employees saw us come in and immediately started a couple of model trains that were suspended from the ceiling, and B and the other little guy followed them around the store pointing and laughing, and having a good time!
We picked up our train set, and a couple extra track pieces for it, and then took B over to the used train car section and let him pick out another train car for his set!
This was all too much fun!!
After leaving there, we walked back to the train station, but still had time before the next train, so we made our way toward a park that was close. On the way, we passed a Fire Station just as an ambulance was coming in, so we stopped and watched, and one of the EMTs came out and talked with us for a while all about trains!
We made it to the park and hit the playground and swings!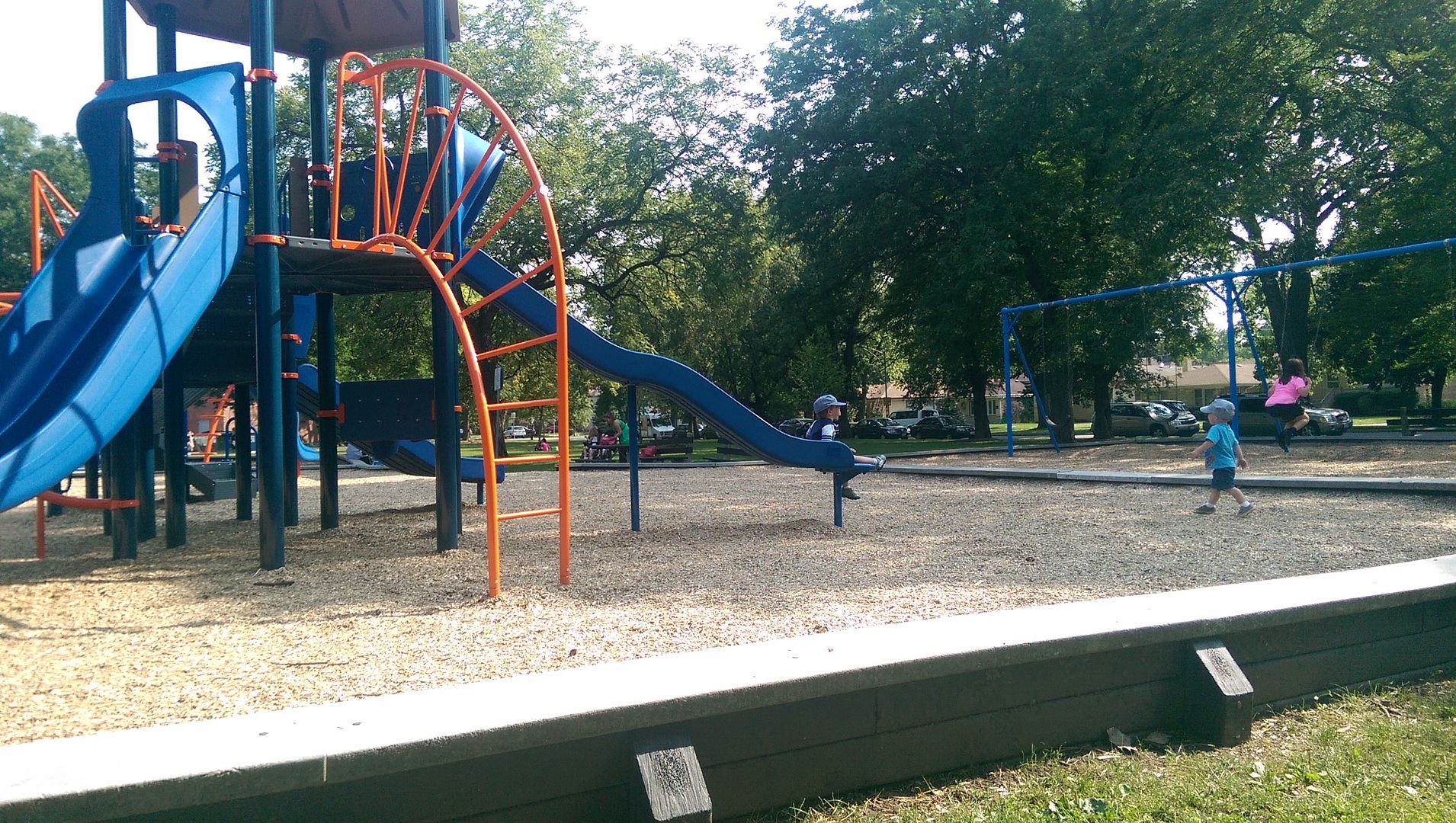 Soon it was time to head back to catch the train. B decided he wanted to ride in his new friend's stroller, and his new buddy decided he wanted to push, or at least walk along side. They were adorable!
Metra Ride back and Dinner
Back on the Metra for the ride back to Union Station. Once we were back, we located a place to eat dinner and chatted and relaxed for a while.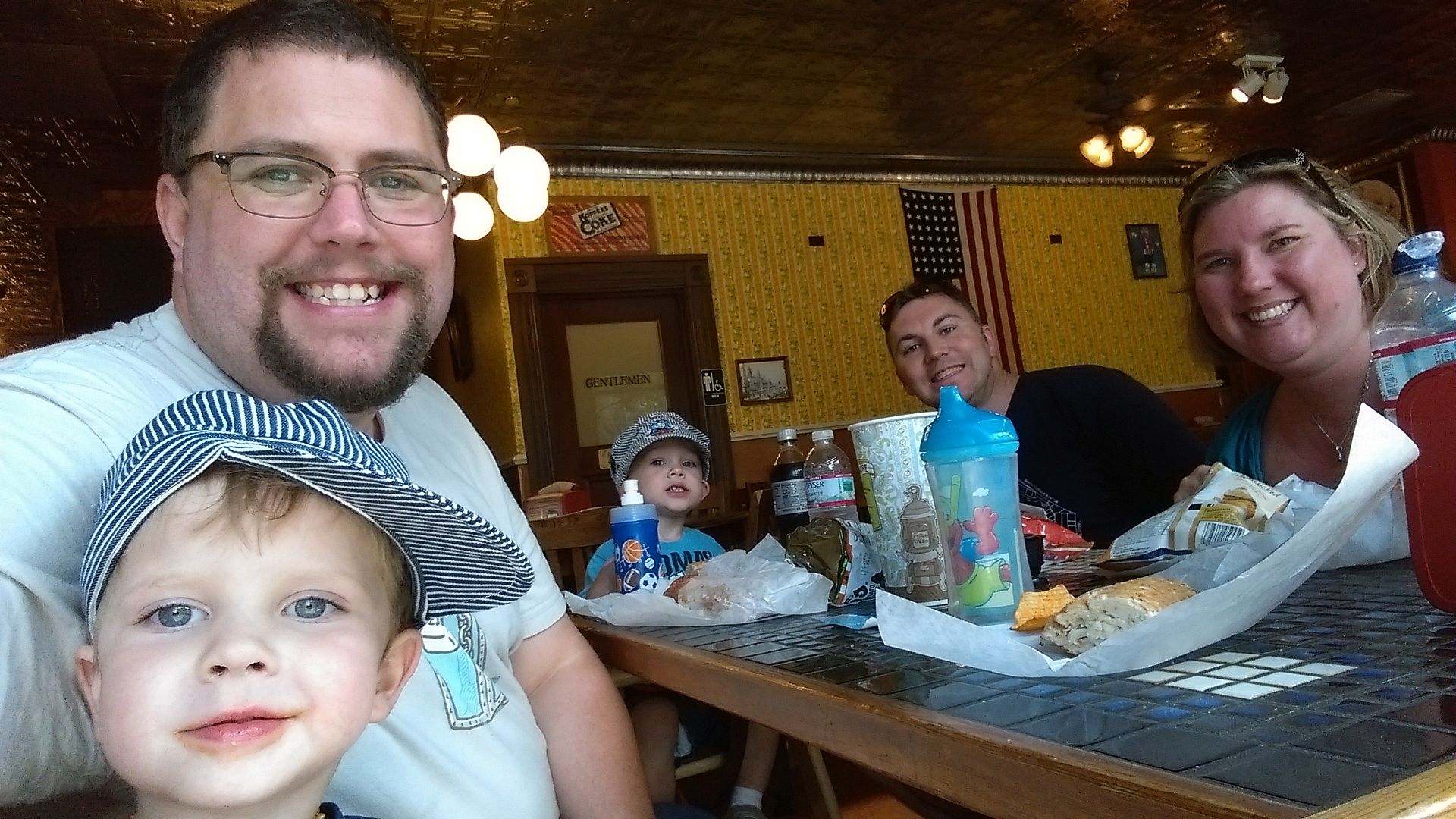 Heading Home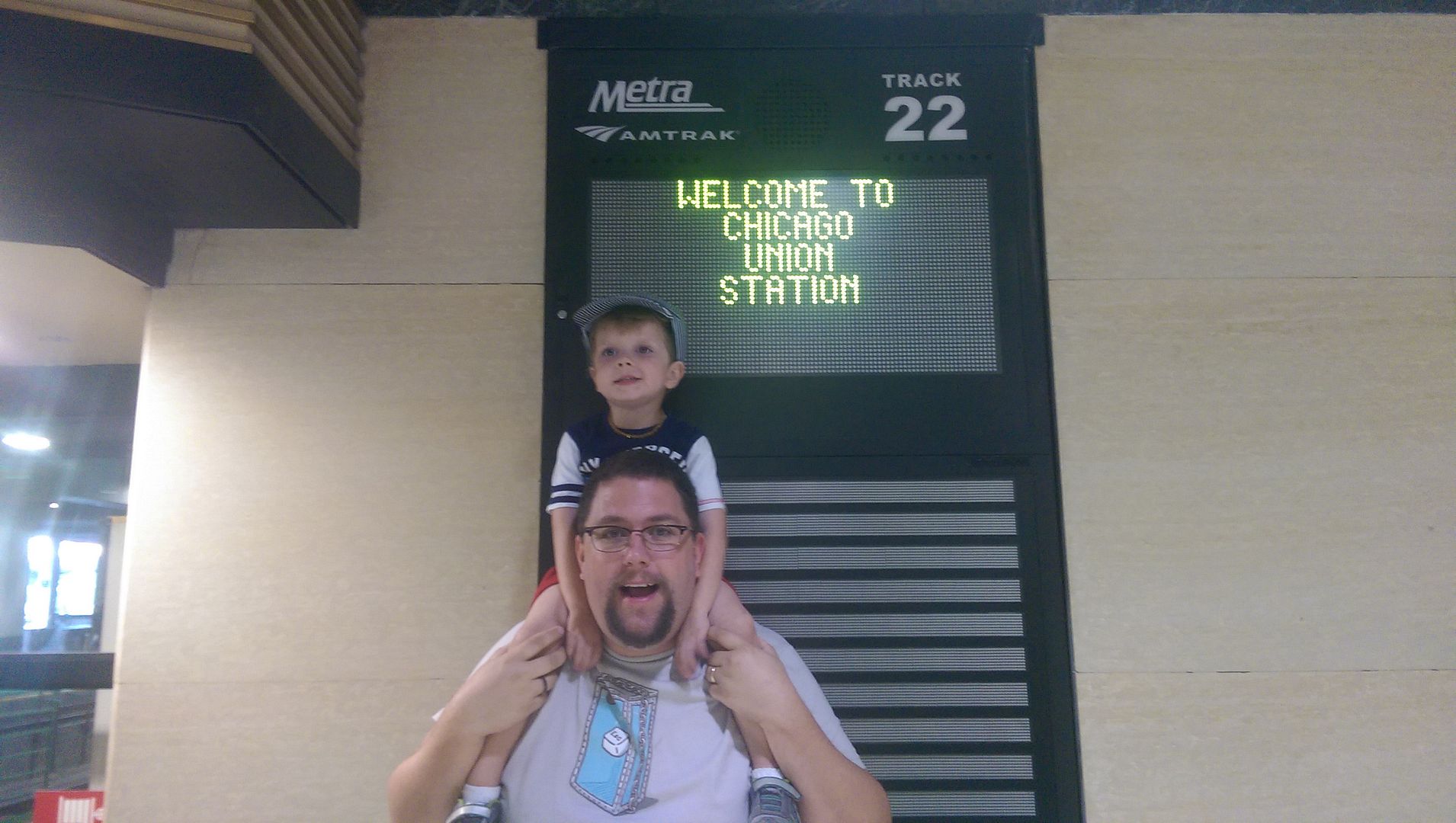 Back to Union Station, and back on the Amtrak, we got settled in for the ride home. B didn't make it very long, and neither did I before: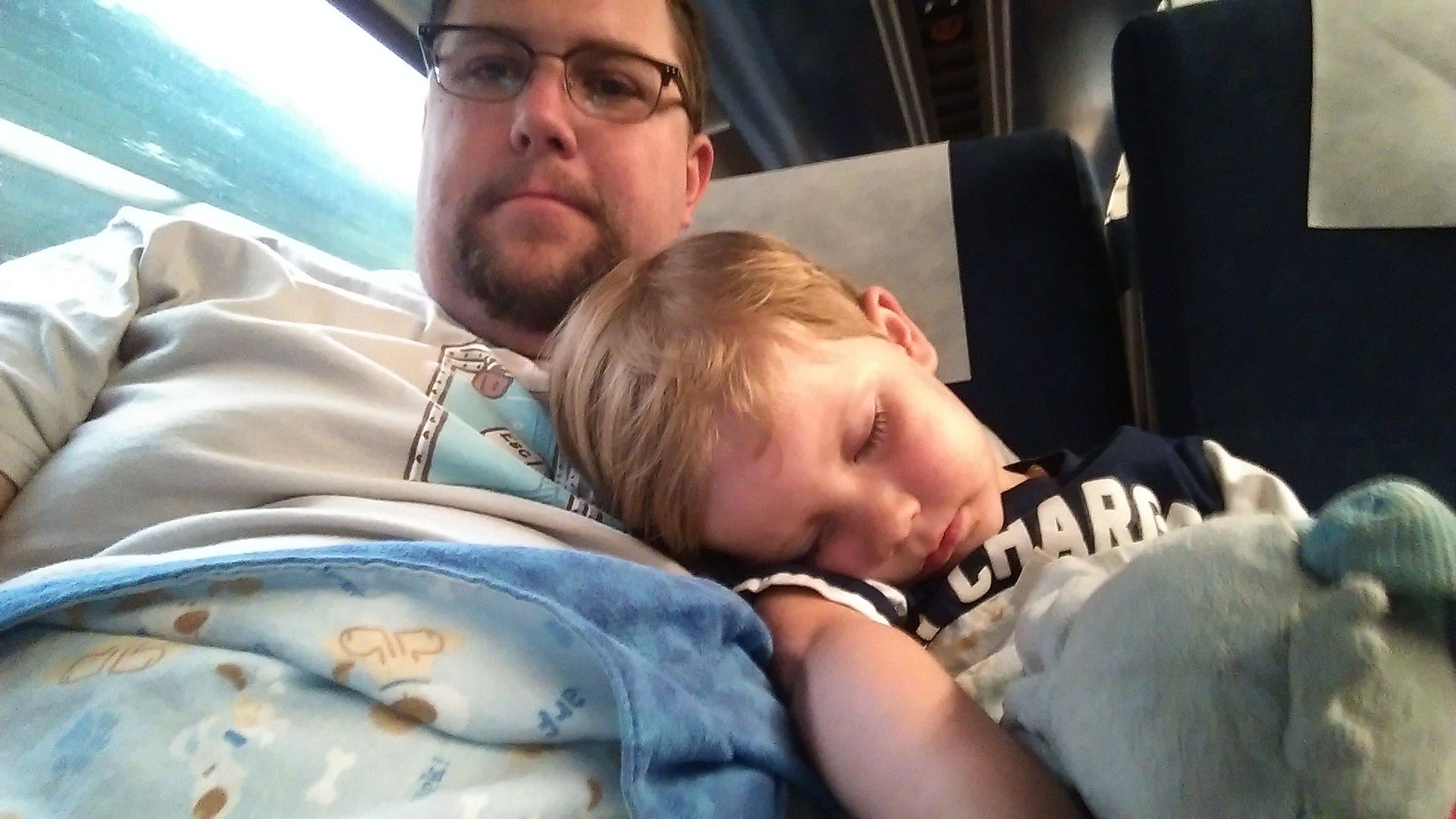 A very nice conductor, seeing that he was asleep, helped us find a spot where he could stretch out a bit.
It was a very peaceful ride back home, and a great day was over!!
Things of Note
Kids under 2 are free on Amtrak, and children 2-12 are 50% off. It was less than 80 bucks for the three of us to travel to Chicago and Back!
This is a VERY relaxing way to travel with a toddler. He was so excited, could get up and move around, and just really enjoyed himself.
As I noted above, be prepared for CTA passes, the single Kiosk was a hassle!!!
This was an amazing trip, B had a blast, and does great with his new N-Scale Train, despite doubts from one store owner (not chicagoland) who all but refused to sell me a set... hence why we ended up where we did!!
I would strongly encourage any of you who have a city like Chicago within a few hours of your town by train to try this! It was a lot of moving around all day, but almost stress free, and way to much fun!!
TTFN
-A