And finally it was over. We awoke from a great nights sleep and the ship was already docked.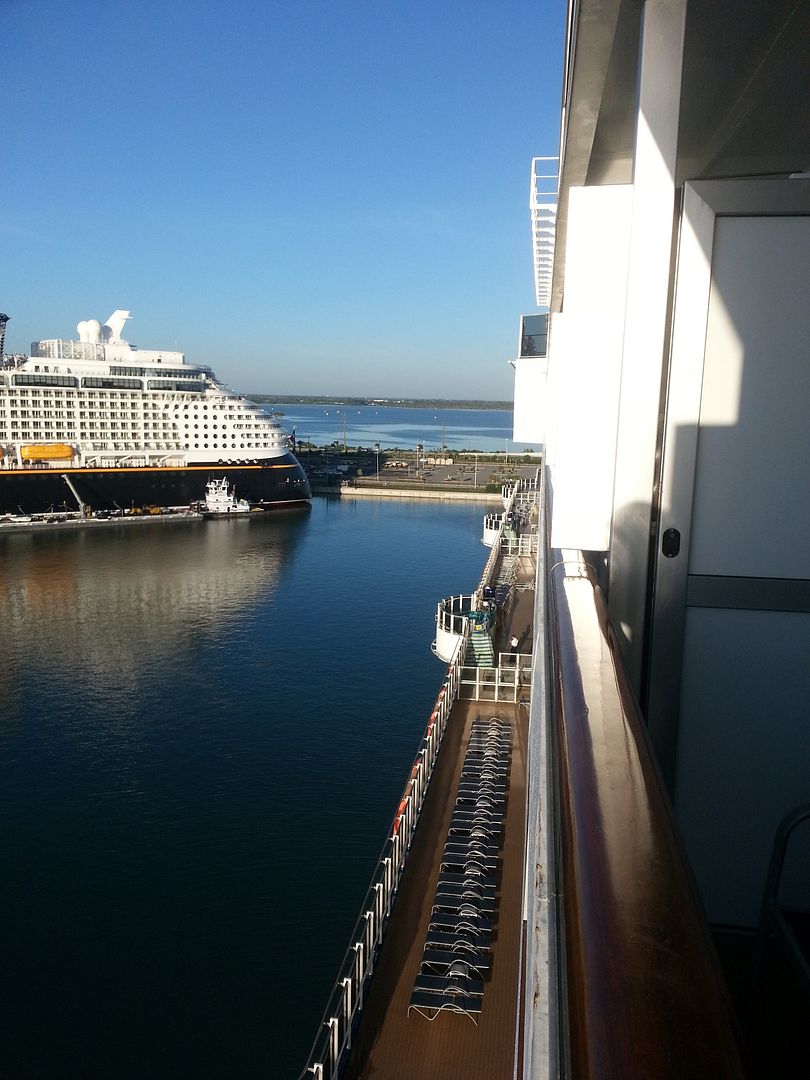 We were in no rush to get off the ship, and neither were our friends so we all met down at the Scarlett Diningroom for one last meal.
This meal was much more quiet than all the rest.. primarily because we all turned on our phones and were inundated with the backlog of emails, facebook messages, texts, voicemails and all the trappings of the digitally connected world we live in. Part of me REALLY didn't want to turn on that phone. I really enjoyed being present with my family and unconnected... but the inner (and outer) geek in me won over!
We had #2 for our debarkation number, so we were in no hurry, and lingered as long as we wanted.
After breakfast, we parted ways with our friends to meet again off the ship. We made a stop by the photo gallery to pick up our photo order. Something that was new on this ship that we had not seen before were the self serve photo kiosks.
You were able to swipe your sign and sail card and it would try to find photos taken of you. They actually did a pretty good job of finding photos. Note, they didn't turn on until a couple of days into the cruise.
We gathered our last few things from the room and headed down to debark. It was at this point that we really noted how much B was loved by the camp carnival staff. Many of them were helping direct people, and EVERY one of them made a point to run over and give Bryan a big hug. He waved and said by-by to each of them. Camp Carnival was a huge hit for us, and for Bryan!
Debarkation was soooooo much smoother than embarkation. Our bags were there waiting for us by the time we got off, and the customs stuff went smoothly with no hiccups. We were off and waiting for our shuttle to Budget to get our rental car in mere minutes. Our shuttle arrived after a short wait and off we went.
Our flights home were not until the next afternoon, so we decided to go visit the Brevard Zoo which isn't far away from Cocoa Beach. We hopped in our rental car and took off.

We quickly discovered that this place is a MUST VISIT for any family who has some spare time. Its not a huge zoo, but in terms of exhibits and things to do, it rates EASILY as one of my favorite zoos.
Here is my
Tripadvisor Review
. I'll not go into a ton of detail here, but there were lots of hands-on things to do, a great train ride, and even a SPLASH PARK for the kids.. so bring a swim suit. And its not expensive at all!!
B was a little tired, but he enjoyed himself! After leaving the zoo, we headed to a post office to grab some priority mail boxes to lighten the load in our luggage after all the stuff we bought on the cruise (thanks again to Alegiant for the 40lb limit.. ugh).
We got back to our hotel and had decided to just share a room for the evening with our friends to save a little $$, and ended up with a HUGE room that we really liked!! Kudos again to the Courtyard Marriott in Cocoa Beach!
Our room even had a view of "OUR" cruiseship, the Dream, leaving port
After some relax time in the hotel, and a quick trip to the store for a few things (like tape), we headed back toward Port Canaveral for dinner at
Fishlips
(and here is the
tripadvisor review
).. This would be an amazing place to watch ships leave, but we were eating later than normal and had missed them. Its RIGHT on the waterfront, and has a great view. The food was good as well!!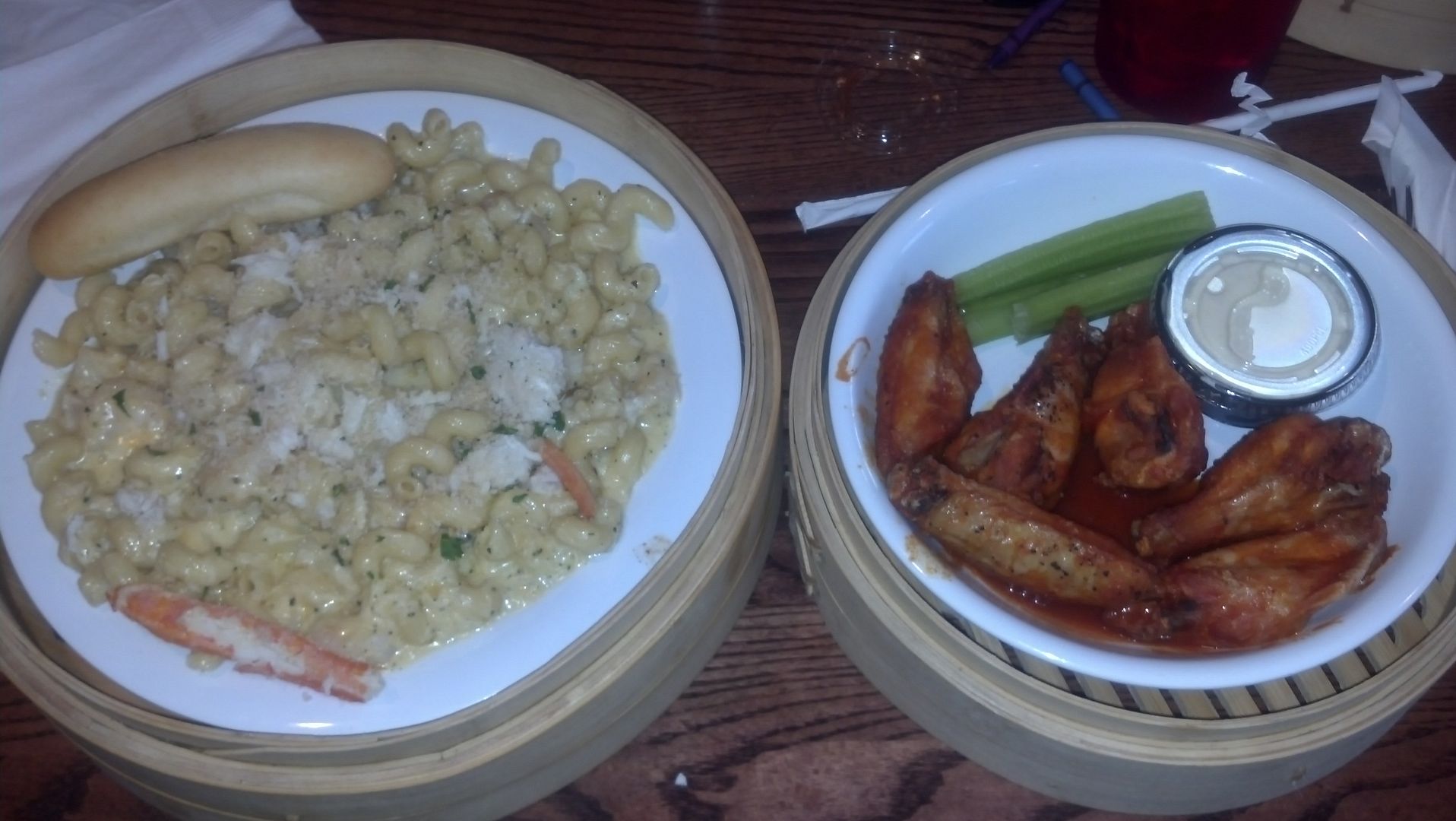 We headed back to to the hotel and re-packed bags and dealt with packing the boxes we were going to mail. One of our friends had a 6:30am flight, so we got to sleep pretty quickly.
The next morning, my wife took our friend to her early flight, and eventually the rest of us got up and got moving. The hotel's internet was down, so we were unable to print postage, so after check out we had to find a self-service ready post office, and breakfast!
We still had more than a case of diapers left, and had no intention of trying to fly home with them, so we were also on the lookout for a shelter or someplace to donate them. The hostess at the IHOP where we stoped for breakfast actually was a coordinator for a women's and family shelter, and she was happy to take them for us!
Finally, we were headed to the airport. We got there without incident, we checked in without any problem, and got to the terminal to see the same family we had flown to Florida with, and they were excited to see us.
An uneventful flight back home ended with the same bad attitude from the CIRA terminal employees of Allegiant, but once past them, all we had left was a 30 minute drive back home and our vacation was over.
It was a great vacation, and I'm ready to go again! The Dream is an AMAZING ship, and easily my favorite of the 3 we have been on. And, if you've ever considered cruising with a toddler, DO IT!! It was such a rewarding experience to have him with us and see his joy and fun. Plus, we got to spend the entire cruise just being together as a family! AMAZING!
I've got some other random pics and some videos to edit and I will post them here, as well as the Fun Times and I think we still have the camp carnival schedule. We will try to scan them and post them as well!
Ask if you have questions.